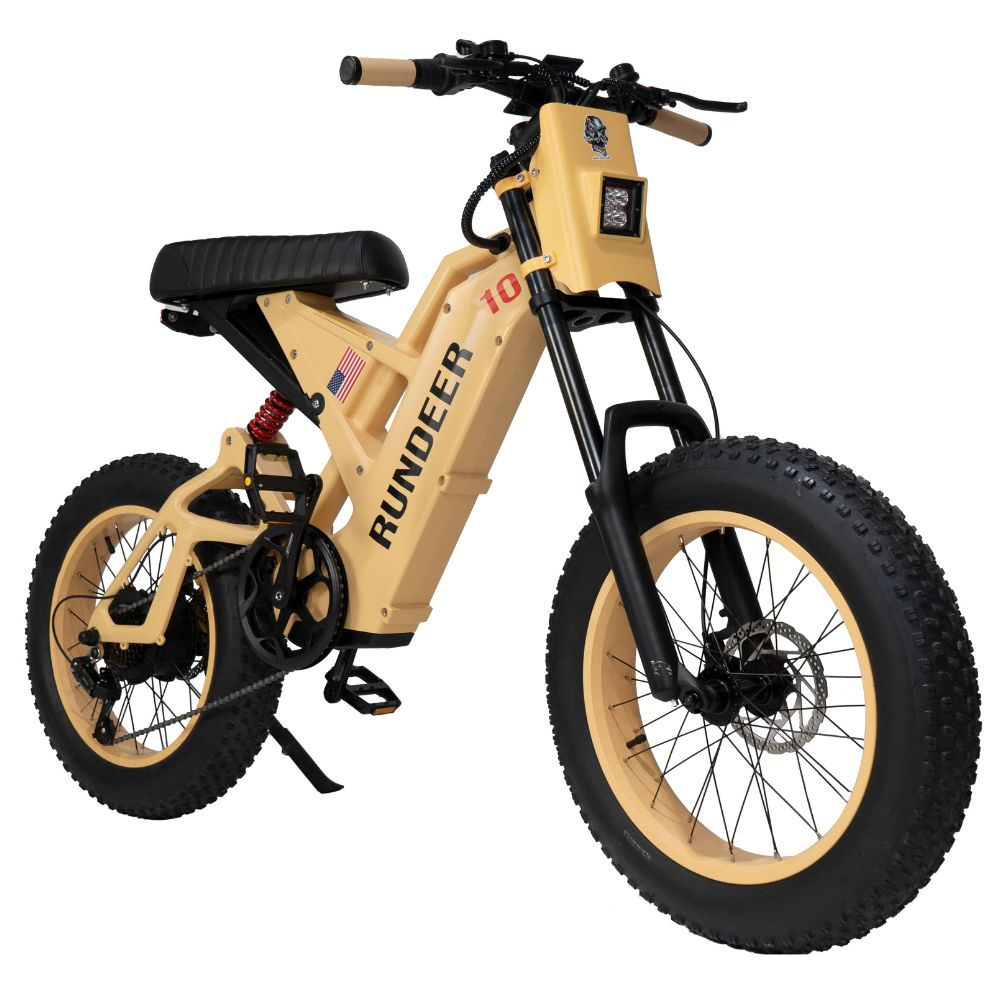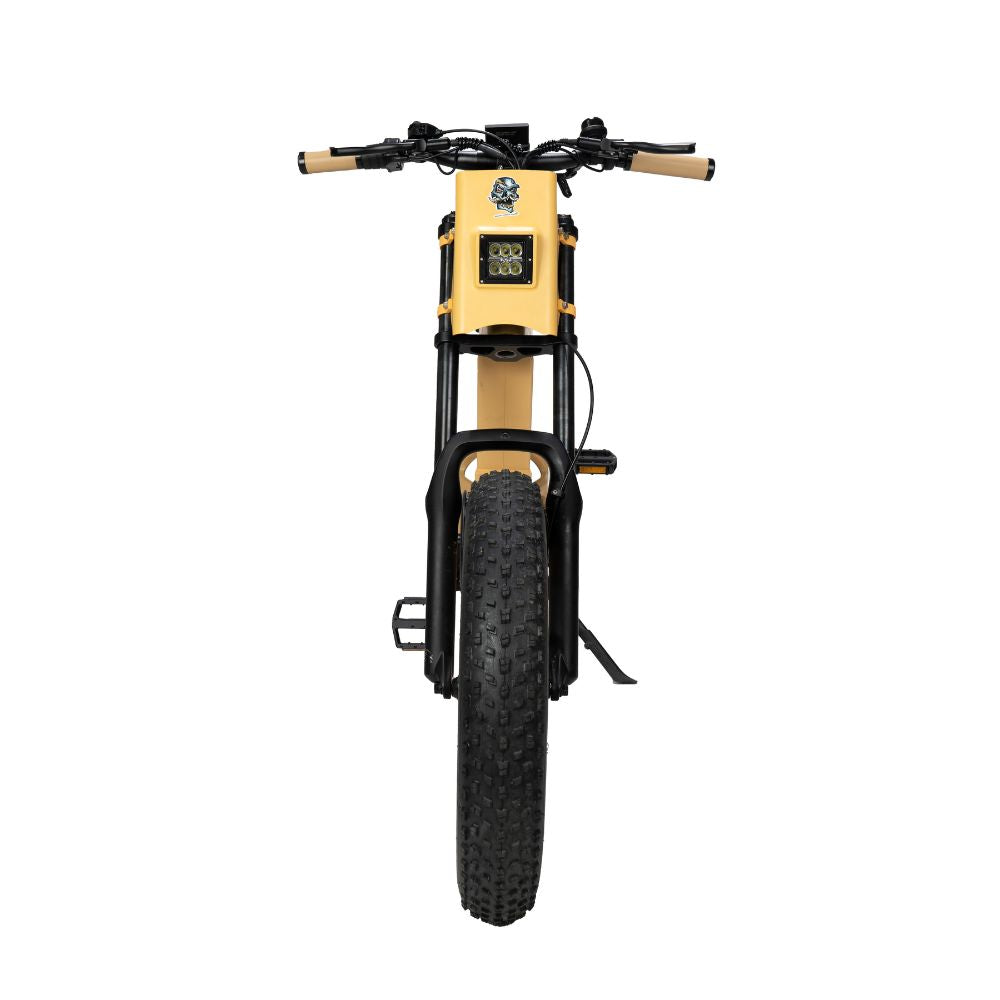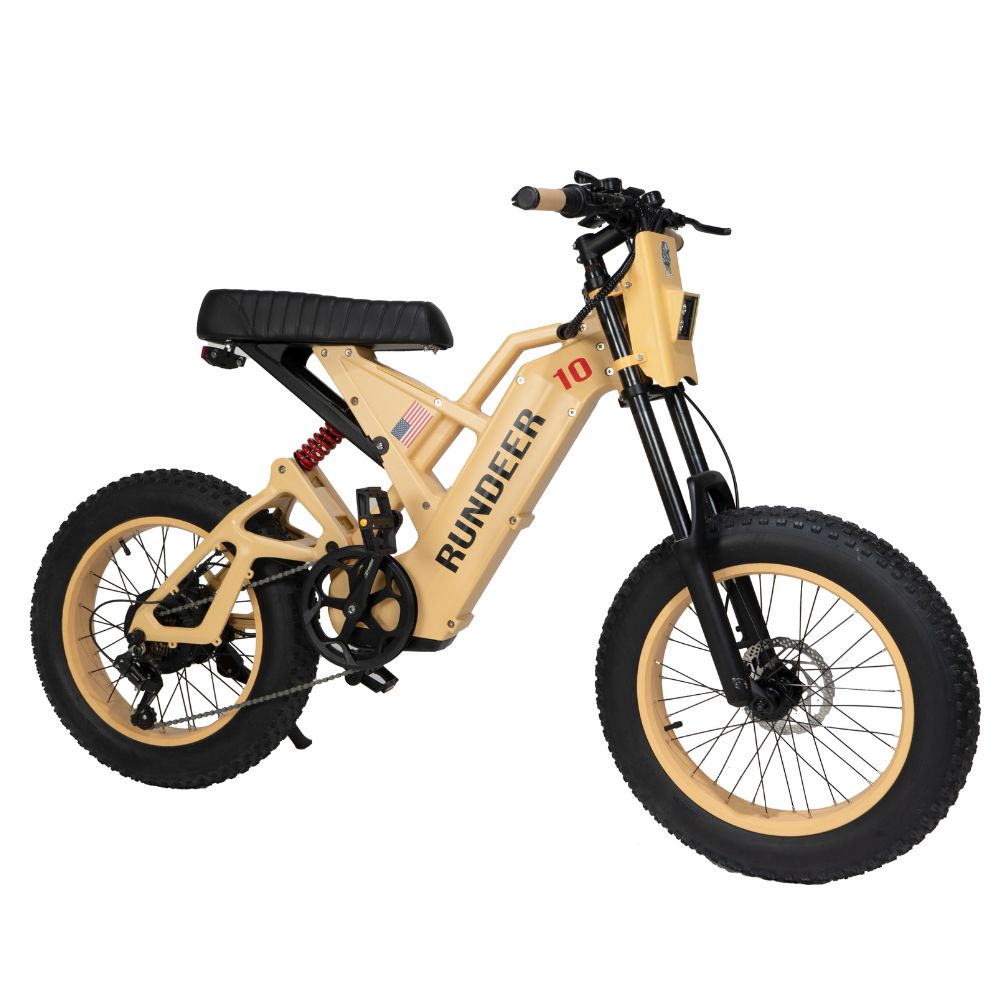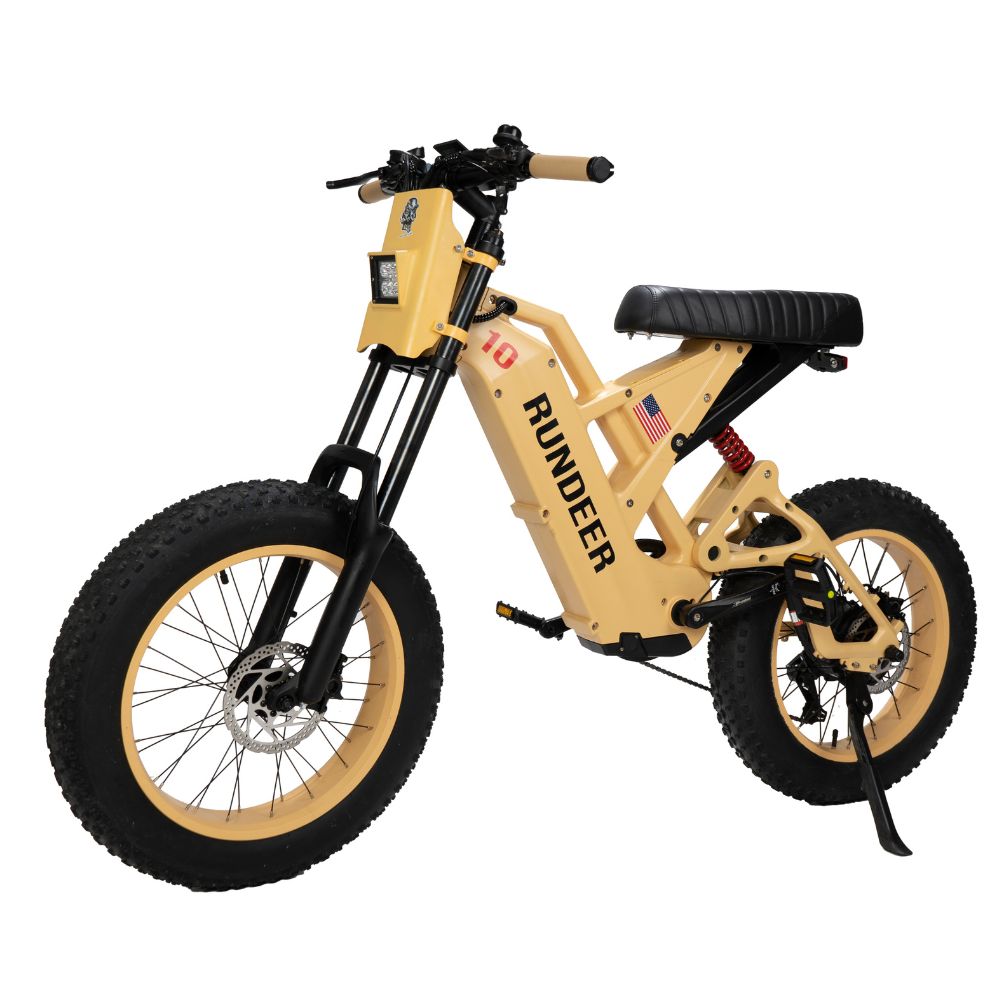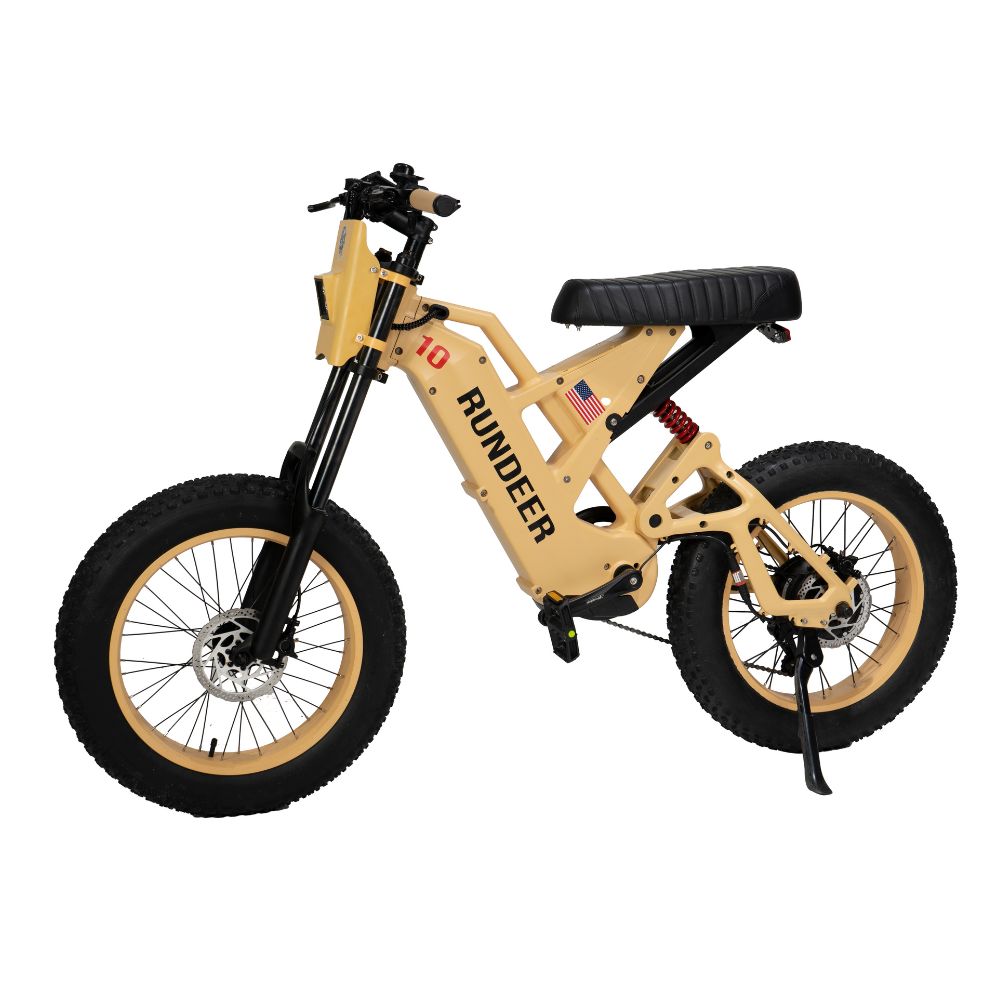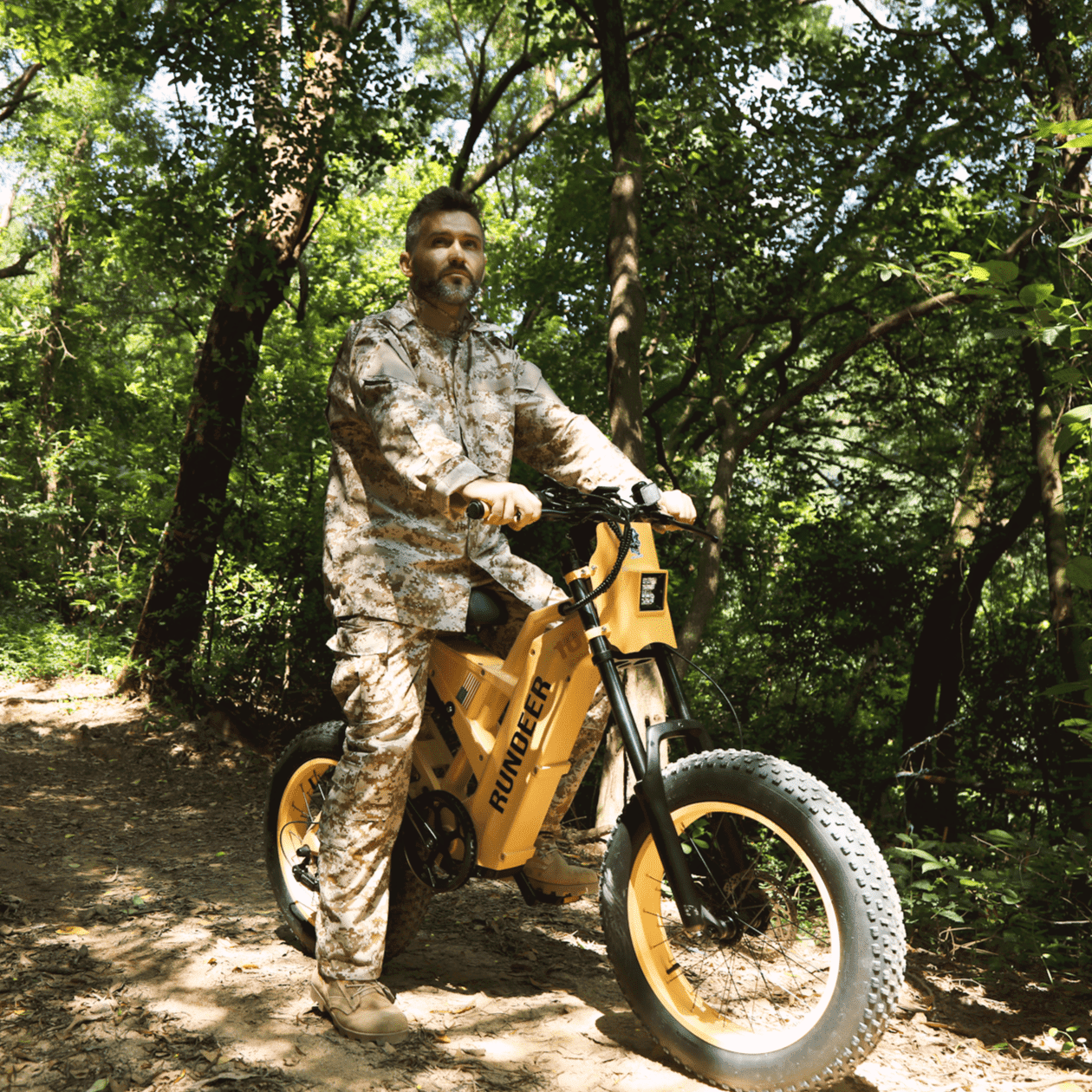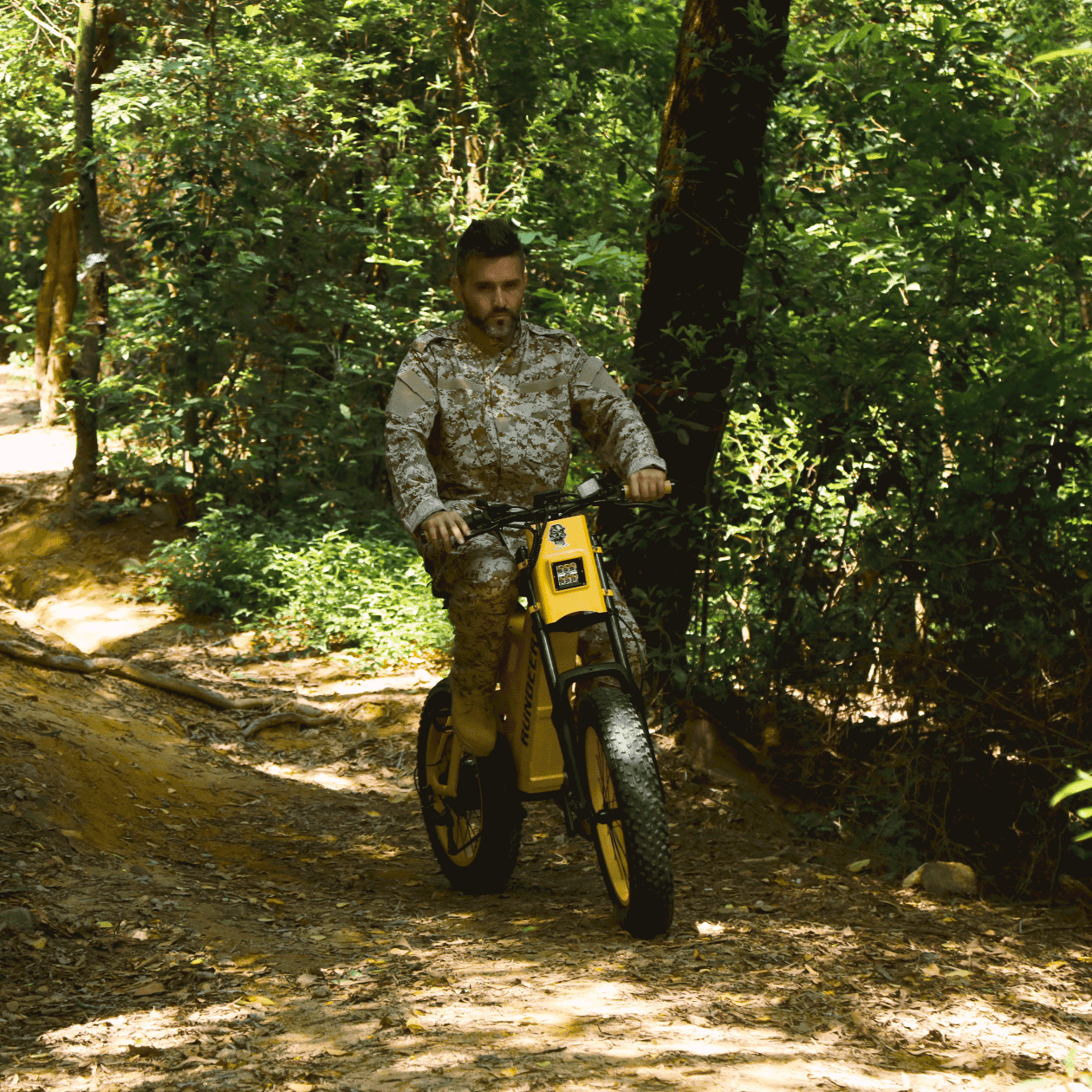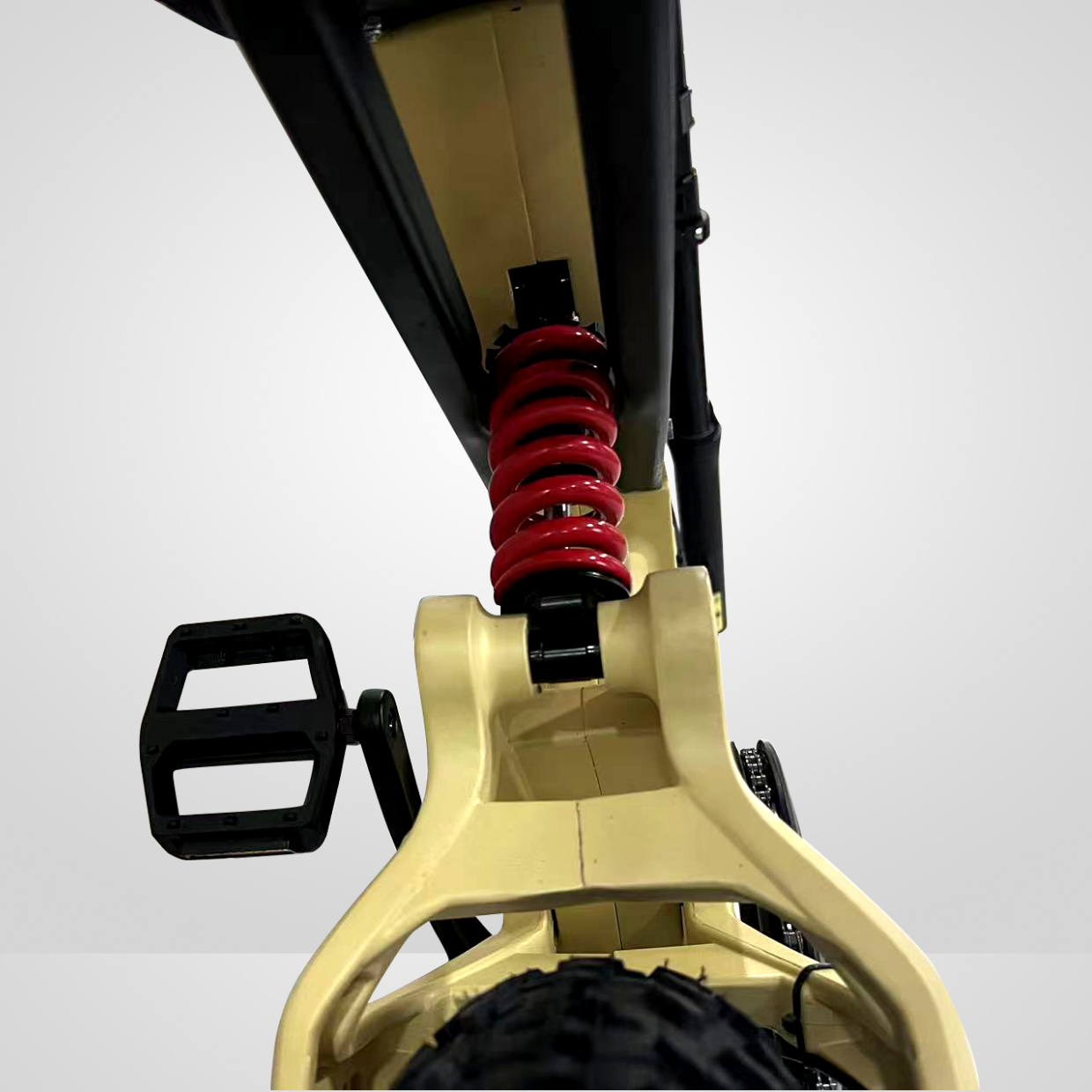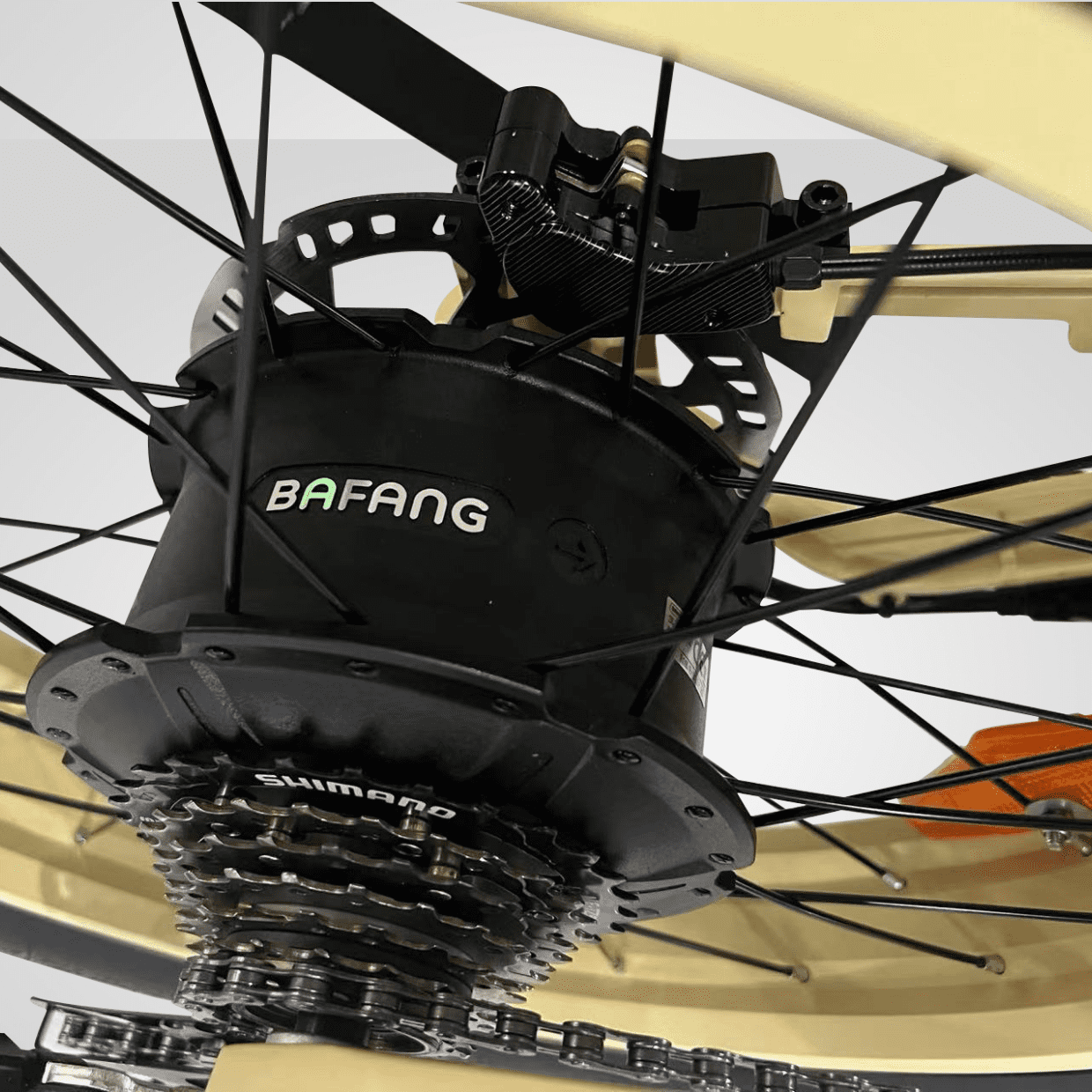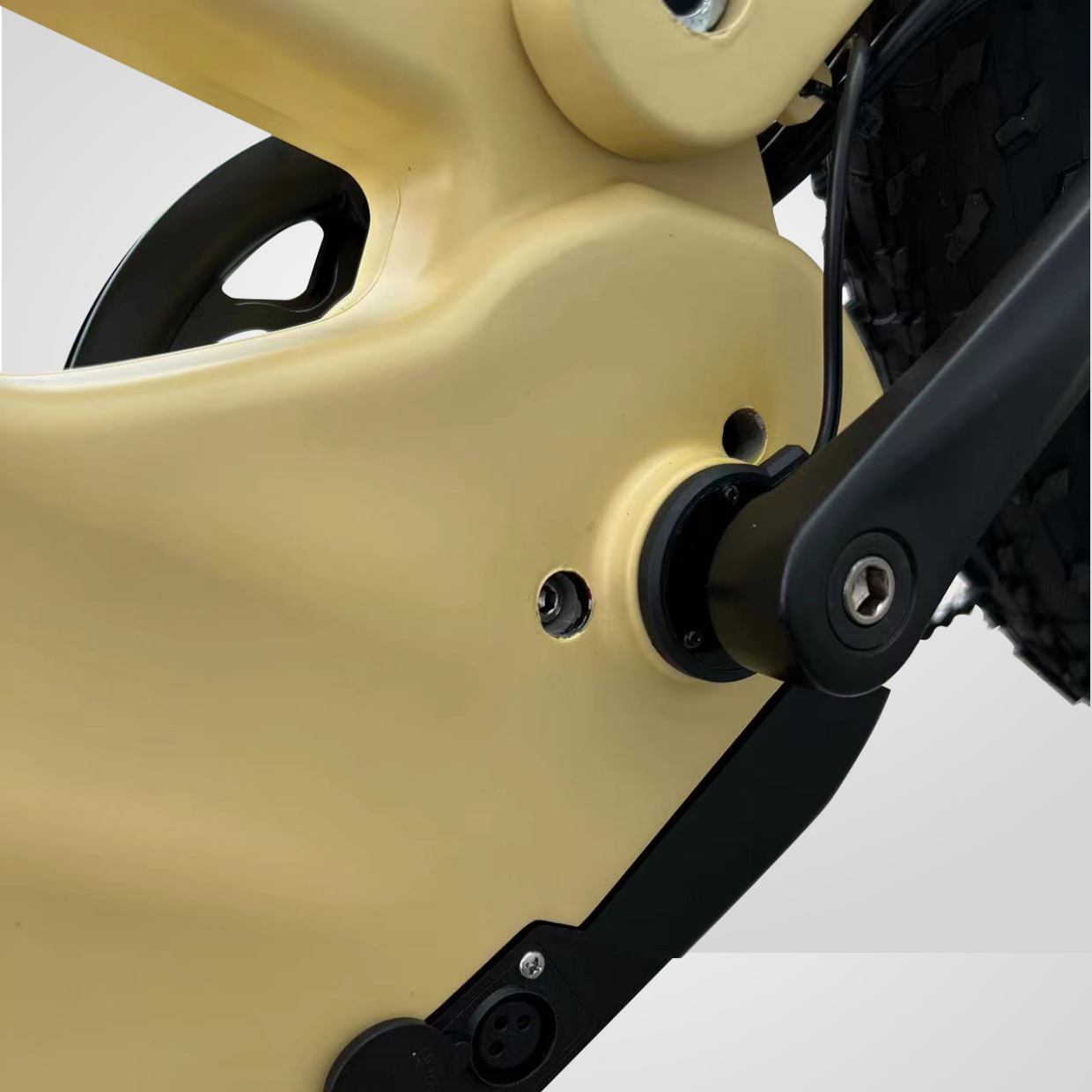 Rundeer Attack10 Off Road Electric Bike
$249.90 off for you. Don't miss.
Limited Stock.
Coupon code : 249off

Free Shipping for Order over $100
30 Days Return Guarantee
1 Year Warranty
             
EBike Size 20 inches
             
Front Frame Material Magnesium Alloy
             
Suspension System Front/Rear Hydraulic Suspension System
             
Speed Limit   30 Miles/H
             
Brake System Front / Rear Hydraulic Brake System
             
Rear Triangle Material  Aluminum Alloy Forging
             
Tire 20"*4" Puncture-Resistant Fat Tires
             
Waterproof Level   IP65
           
             
Motor BAFANG 750 - 1200W Brushiess Gear Motor
             
Driving Mode Pedal Assist / Power Assist / Pure Electric
             
Certificatioon Standards UL
             
Max Payload Capacity 350Lbs
             
Battery Output Samsung 960 Wh
             
Riding Range40-68 miles
             
Speed System   Shimano - 7 Speeds
             
Weight w/ Battery  88 Lbs
           
British Retro Motorcycle Design Style
RUNDEER Attack 10 adopts a classic British retro motorcycle design style. The square-shaped lower fuselage gives it a more rugged and muscular look. The exterior paint is in desert yellow, reminiscent of military vehicles, which is loved by military enthusiasts
Magnesium Alloy Casting Process
This ebike frame is made of magnesium alloy casting process, one-piece die-casting molding, such a manufacturing process make it there is not a single welding point on the frame, also the surface is more flat and beautiful.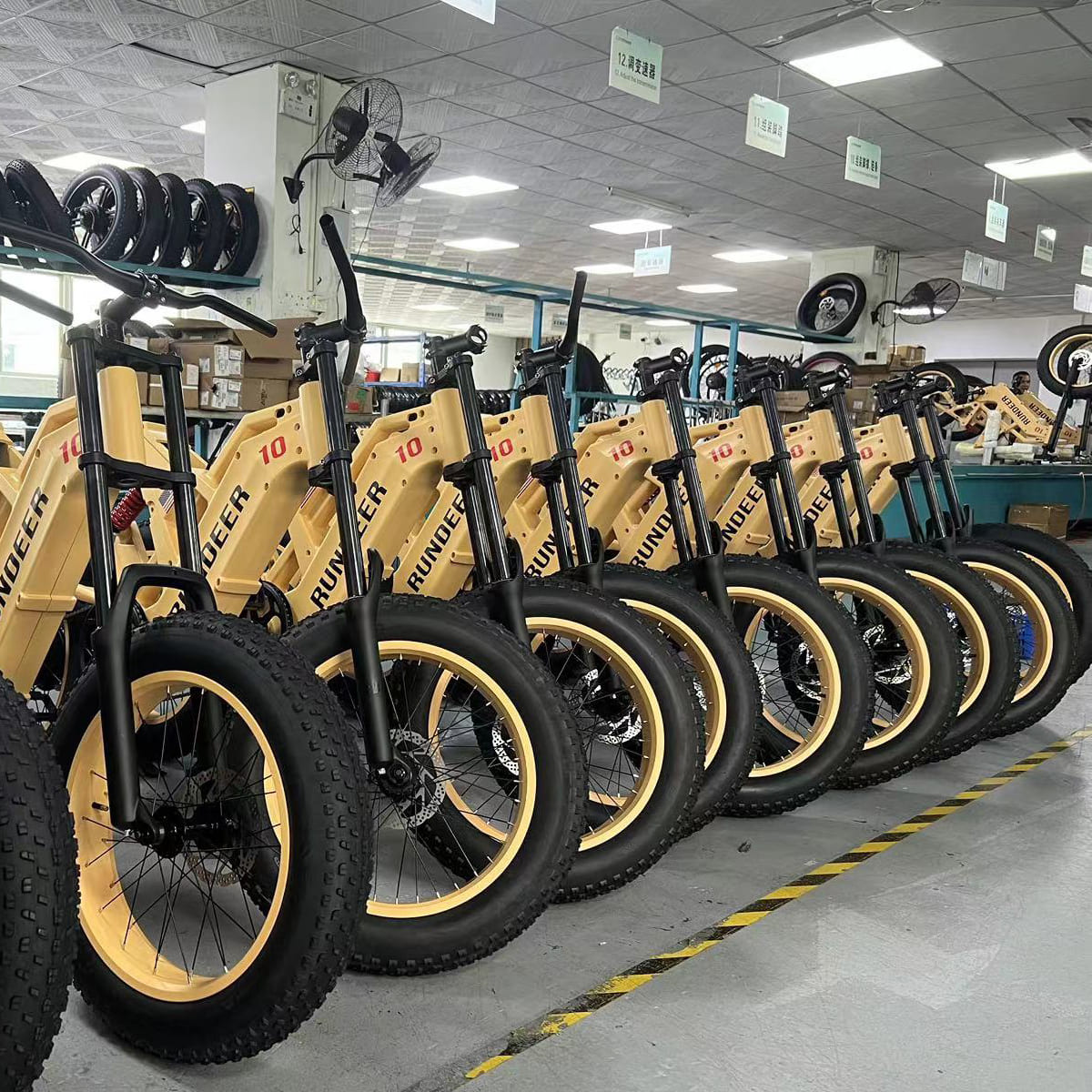 Attack 10 is a 20-inch mountain off-road bike equipped with 4.0-inch fat tires and rear shock absorber, making it resemble a fierce beast during mountain off-road riding. It is suitable for riders with a height range of 170-190cm and can support a maximum weight of 150kg.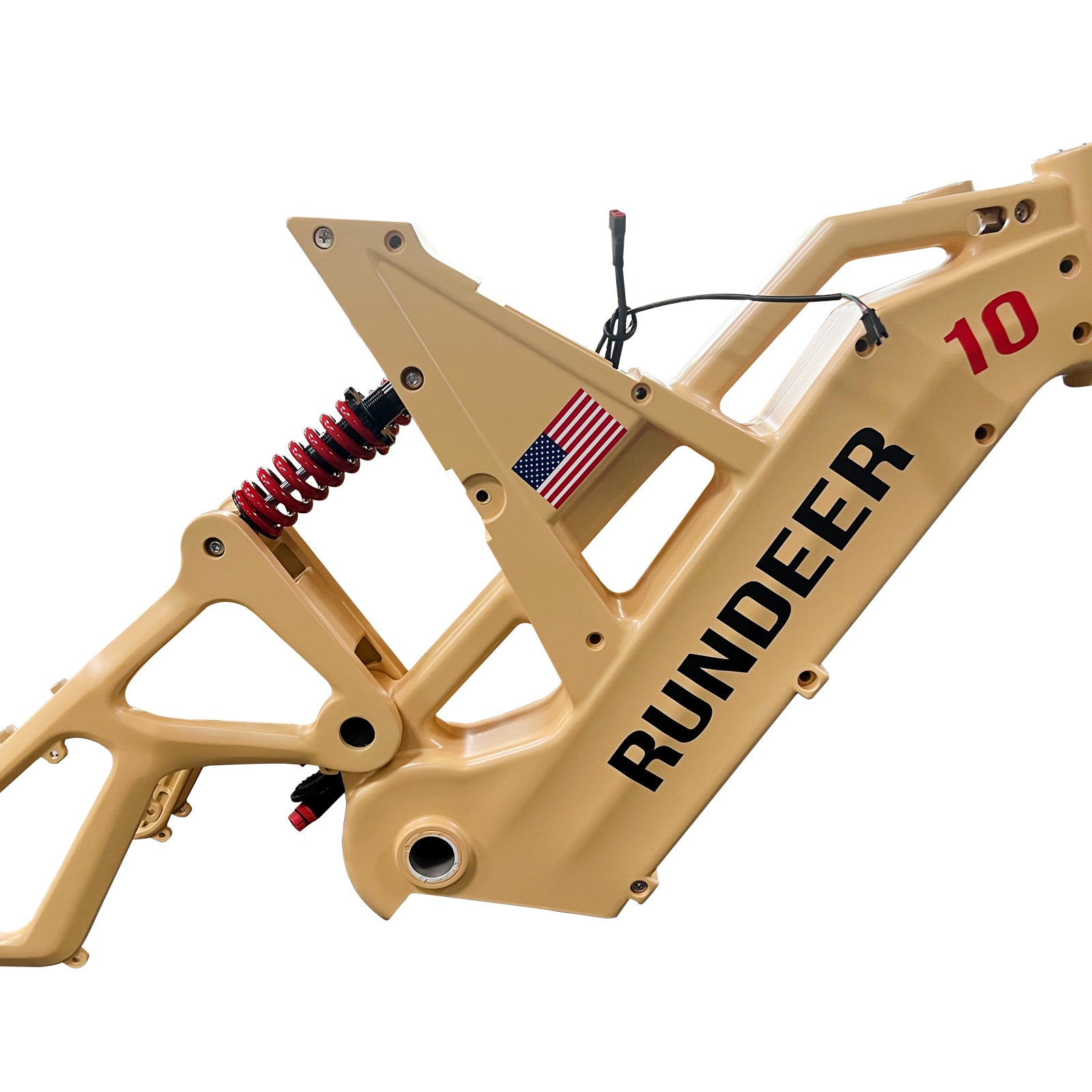 The front triangle of the frame is made using integrated casting technology with aerospace-grade magnesium alloy, while the rear triangle is crafted using aluminum alloy forging technology. As a result, the entire bike does not have any welding joints. This design not only enhances its aesthetic appeal and lightweight nature but also ensures the strength required for mountain off-road riding.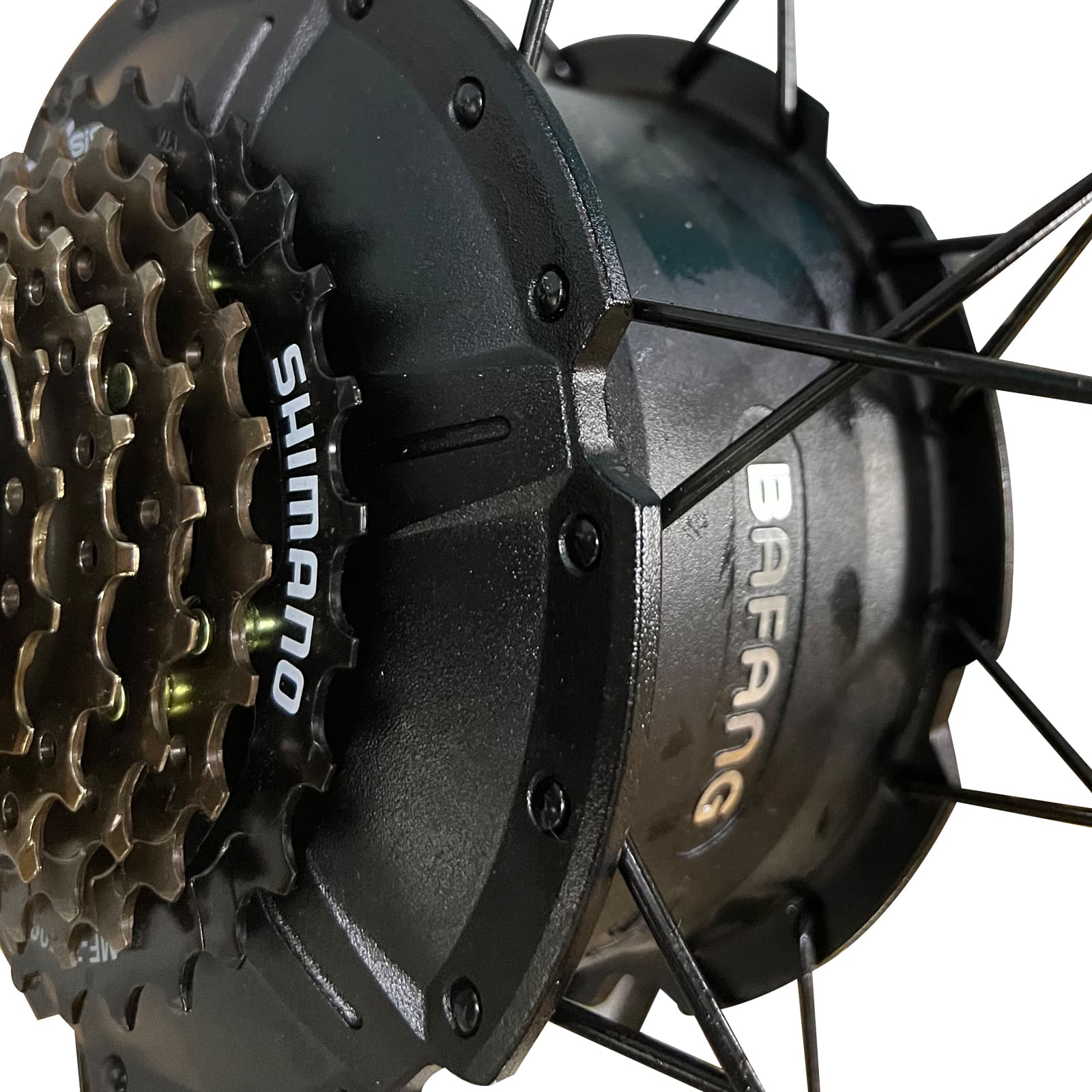 Attack 10 is equipped with a "BAFANG" 750W electric motor. "BAFANG" is one of the most renowned global brands for bicycle electric motors. It not only provides the Attack 10 with ample power but also ensures stable power output.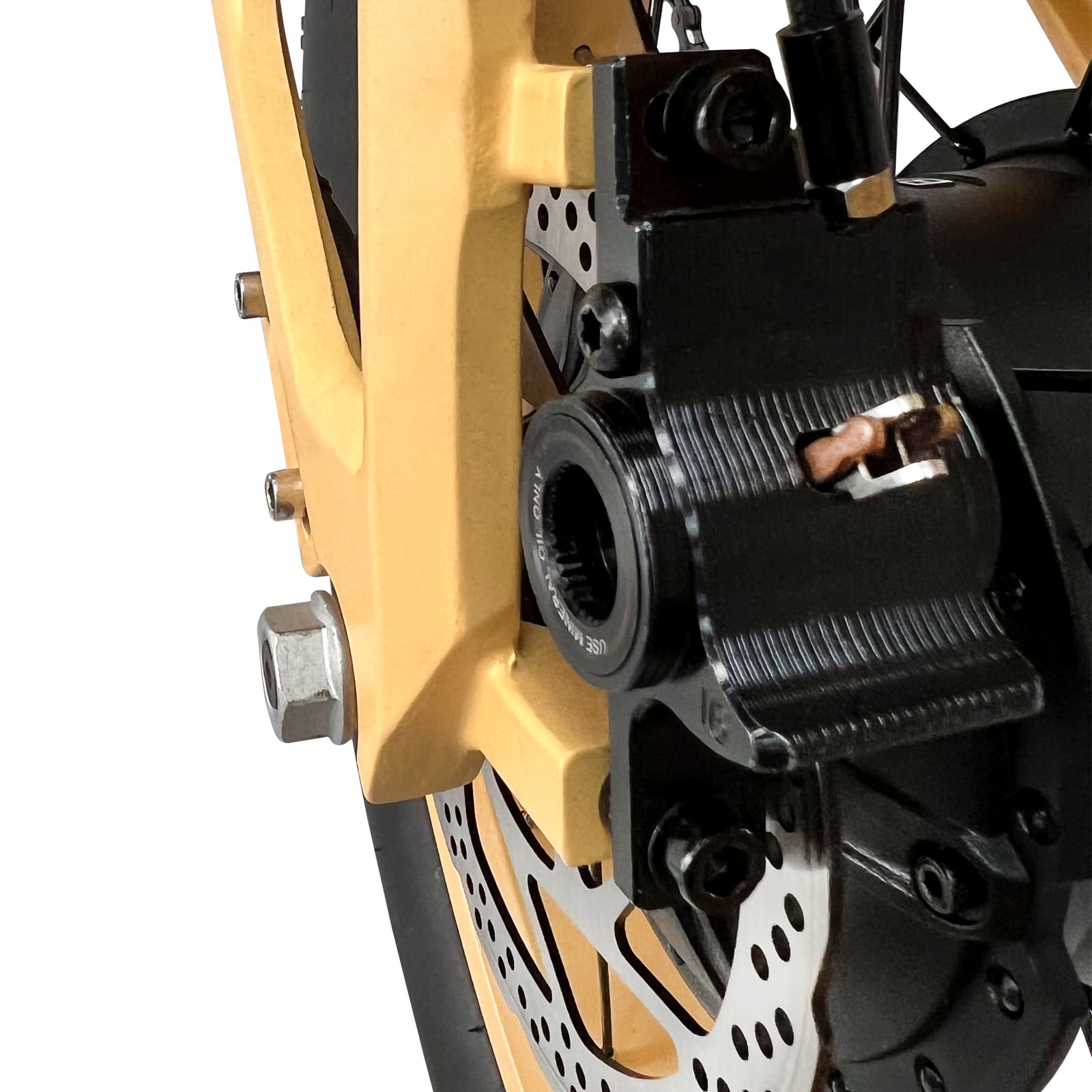 The brake system of the Attack 10 utilizes front and rear hydraulic disc brakes, ensuring a highly responsive braking performance with an effective braking distance reaching millimeter precision.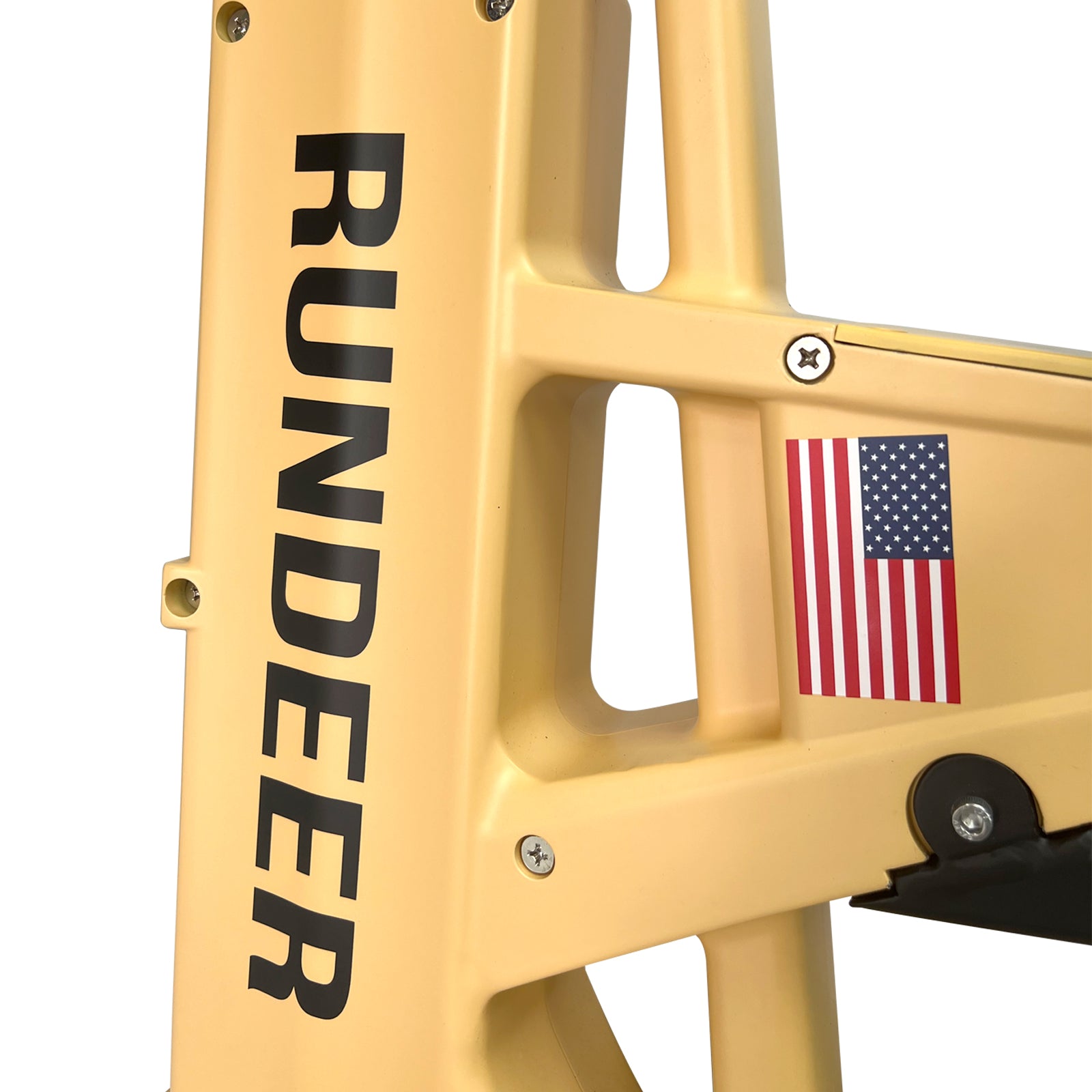 The paintwork of the Attack 10 is applied using a special high-temperature process, making the surface extremely resistant to scratches even when scraped with a fingernail.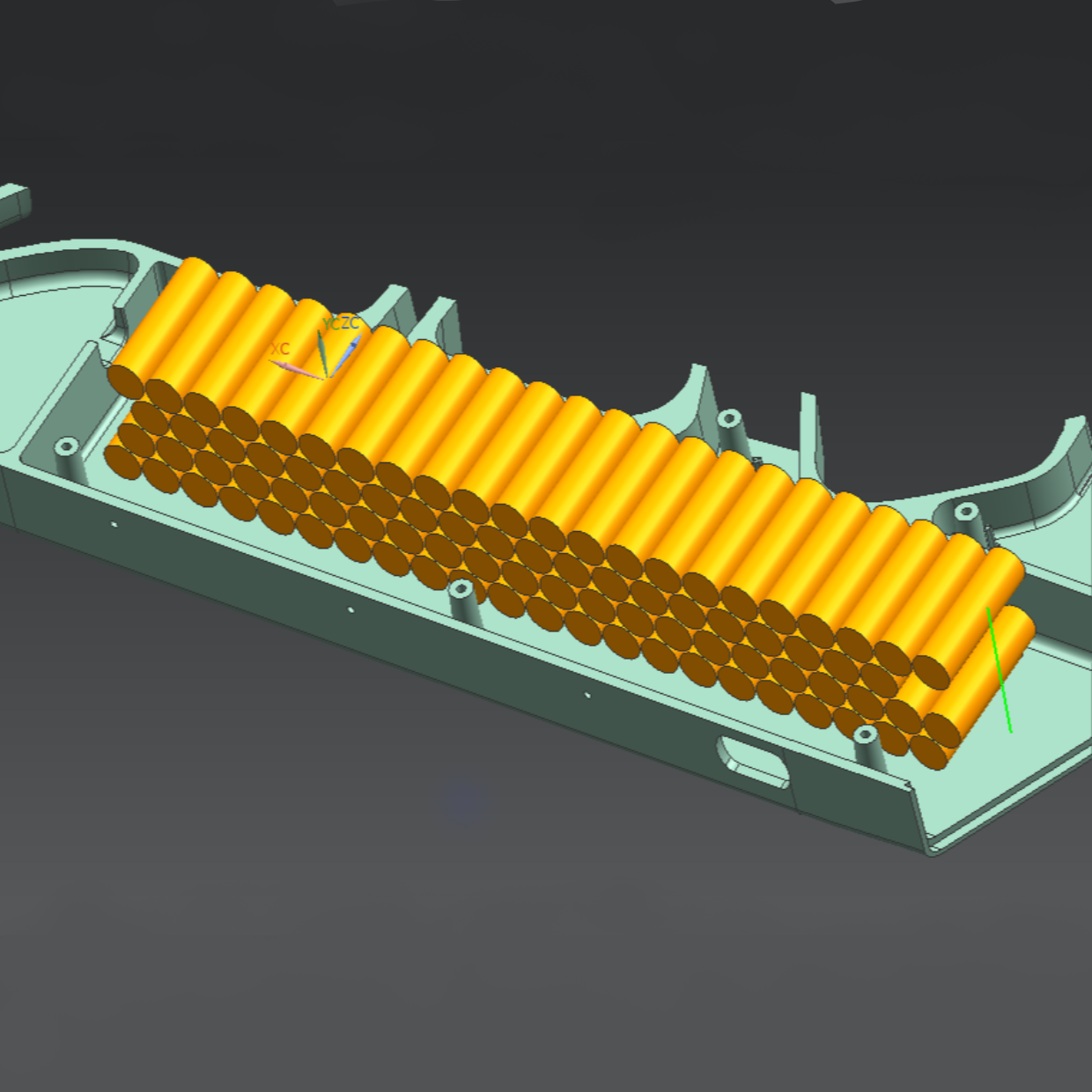 The battery of Attack 10 is a 48V-20AH unit that utilizes Tesla-level 21700 technology. It is equipped with "Samsung" 50E battery cells. With this setup, the Attack 10 achieves an extremely long-range of 40~68 miles in a single charge. Additionally, it has a waterproof rating of IP65, providing a high level of protection against water ingress.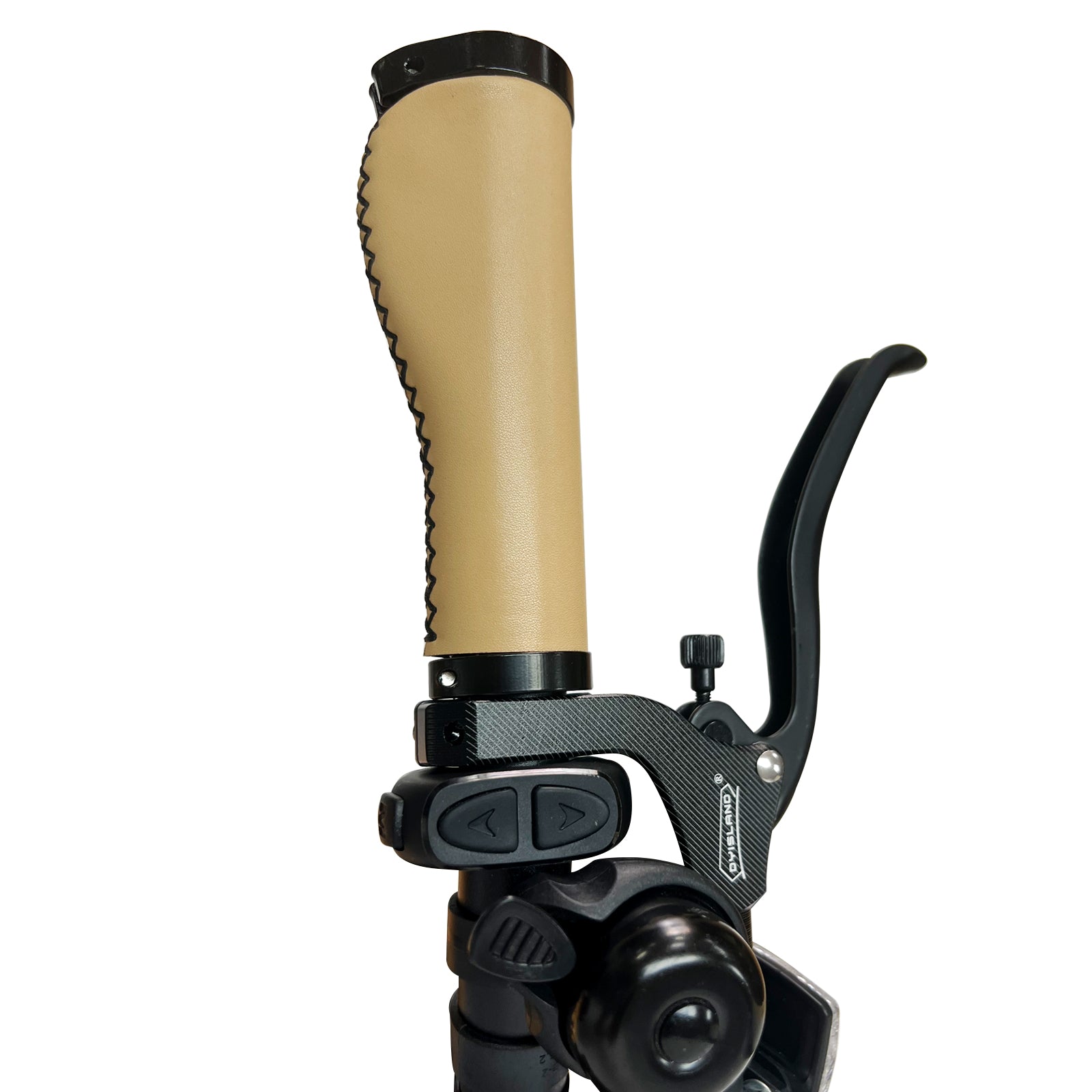 The handle grips cover is made of genuine leather material and sewn by hand. Every detail reflects RUNDEER's spirit of pursuing the ultimate in product details.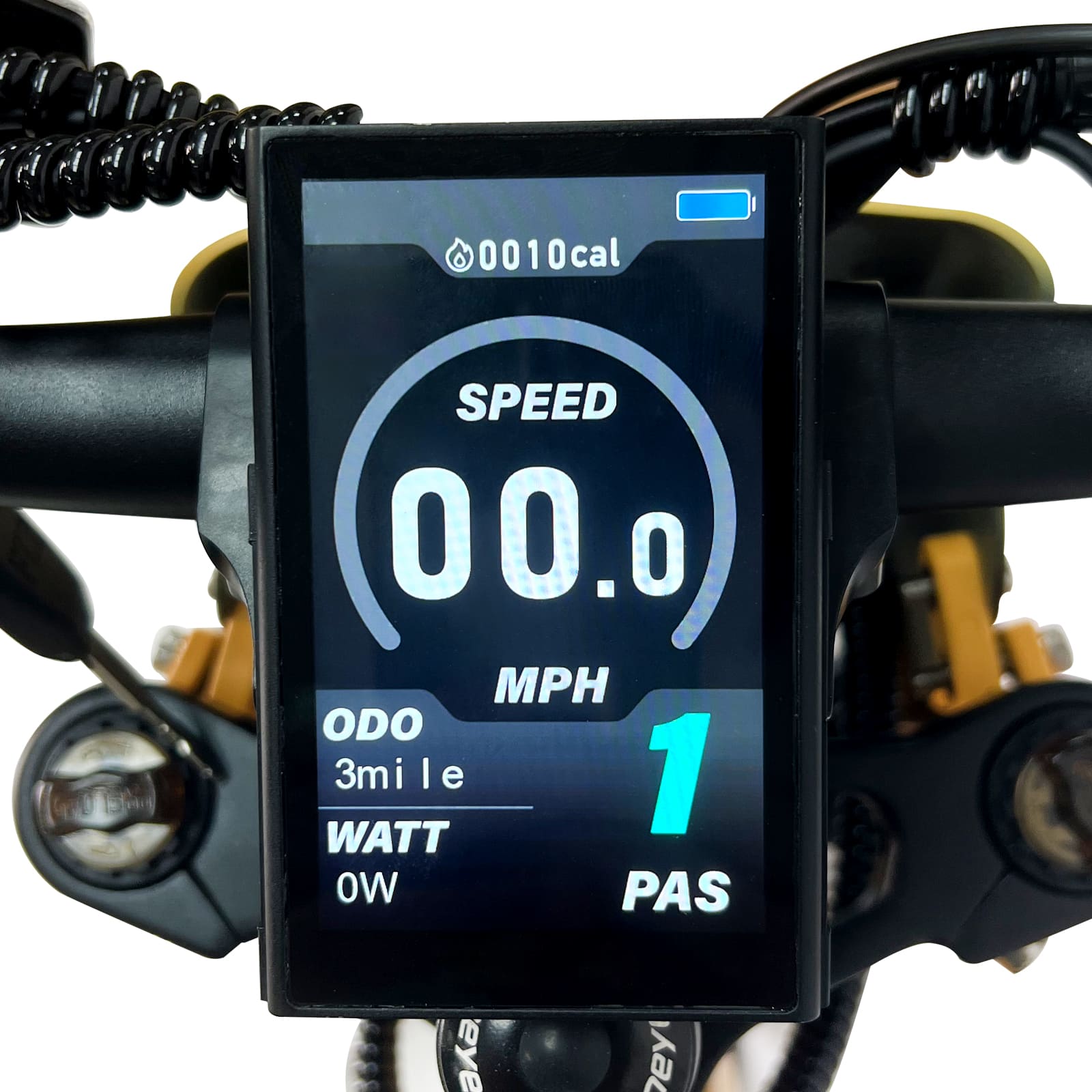 The Attack 10 is equipped with a 3.4-inch color display instrument panel that provides clear visibility of essential information such as speed, mileage, gear position, battery level, and lighting while riding.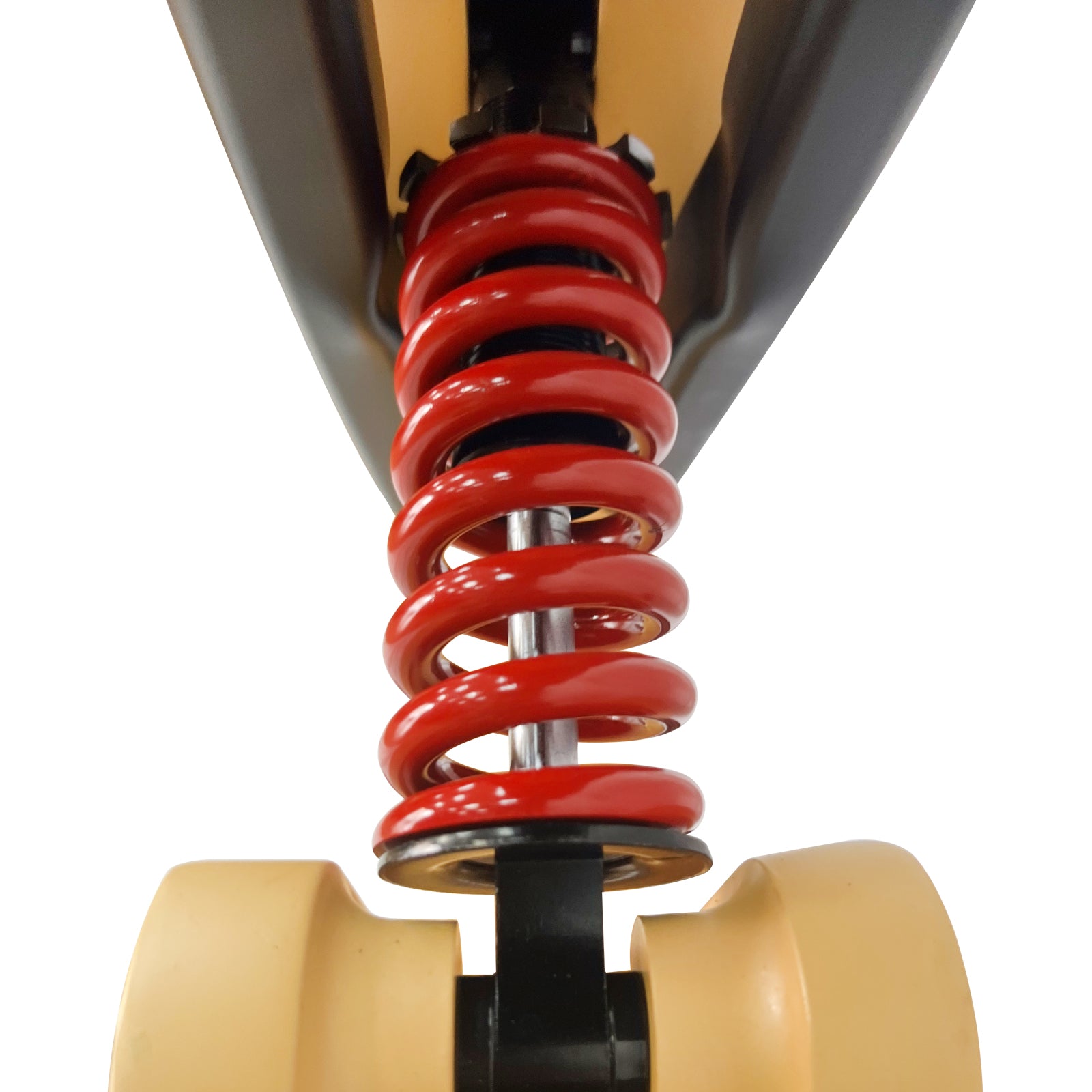 The rear shock absorbs the bumps caused by the unevenness of the mountain roads and is made of the famous DNM brand.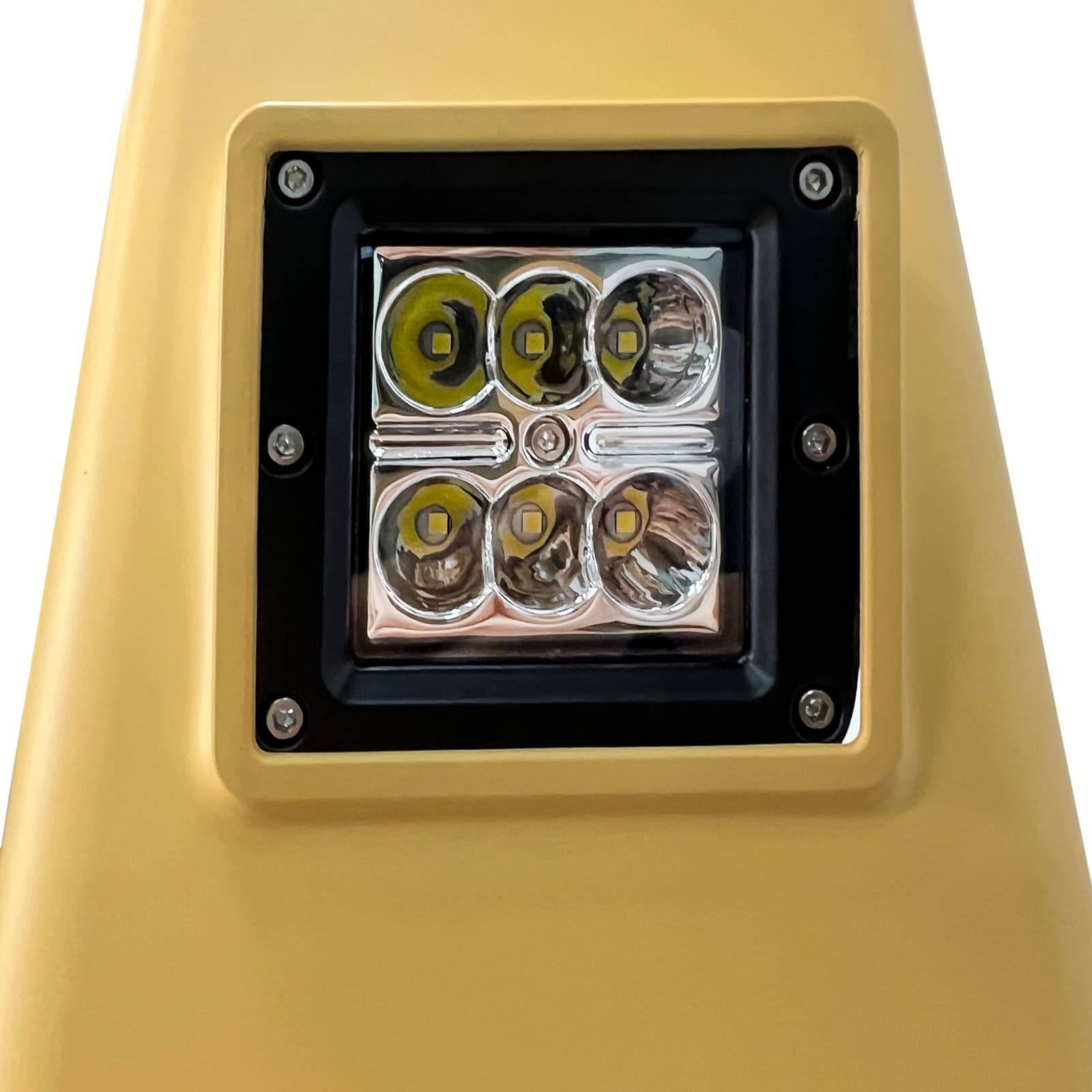 Adopting 12W lumen body headlight, the light intensity is more than 3 times that of ordinary lights, ensuring the light darkness as well as the safety of evening riding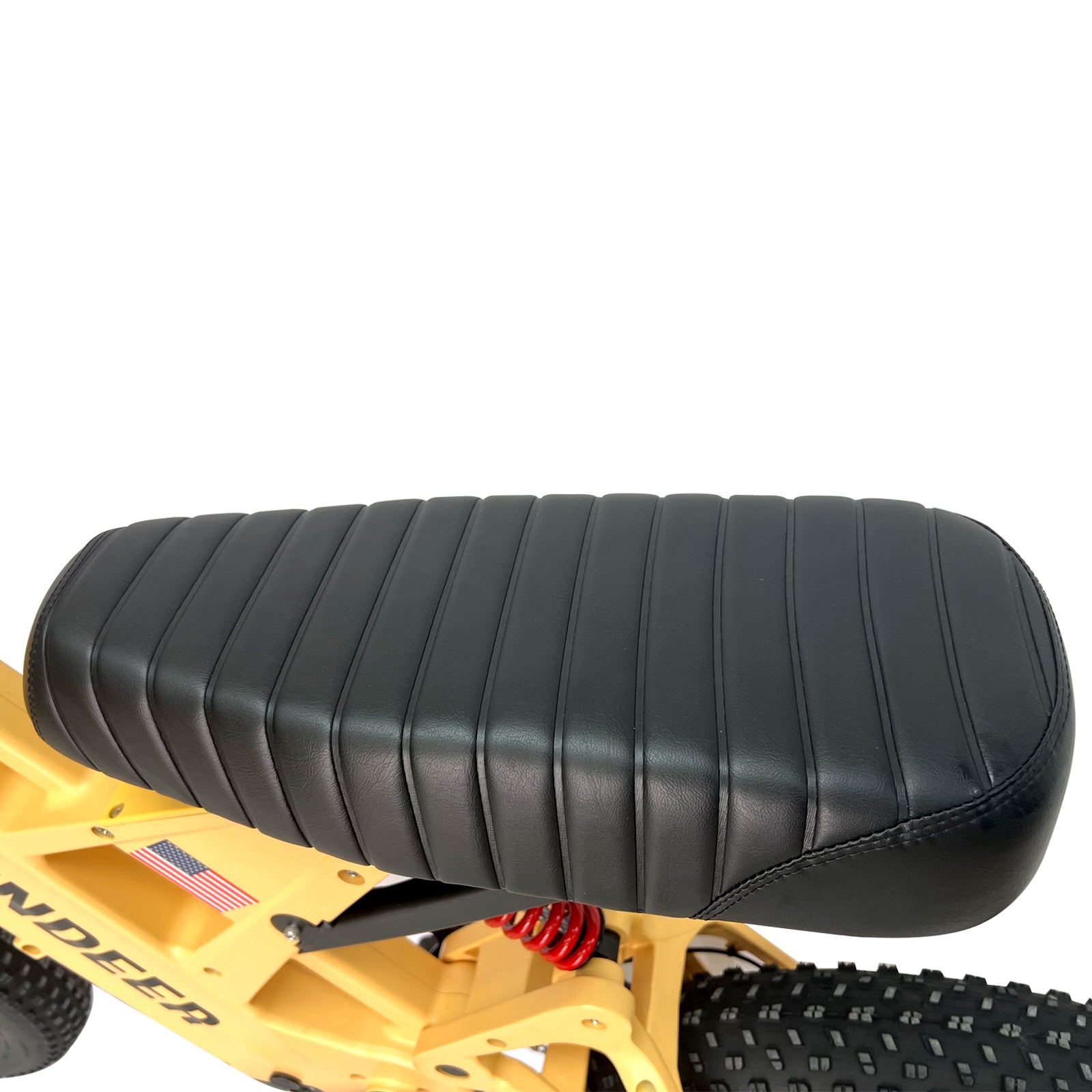 The Rundeer design team has thickened the foam inside the cushion to make long rides more comfortable.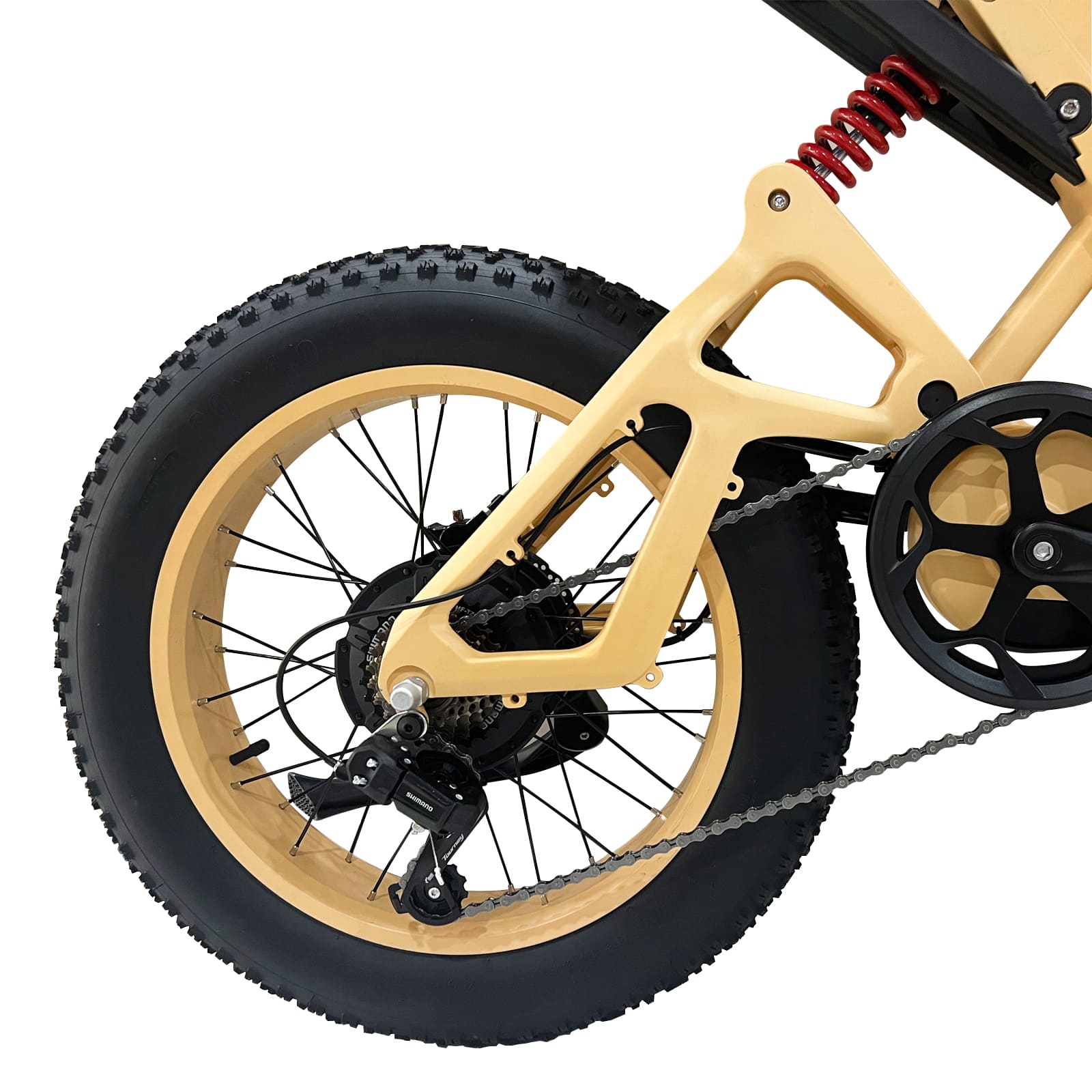 The rear triangle of Attack 10 e-bike is made of aluminum alloy casting process, which makes it stronger and able to adapt to the needs of mountain riding in complex environment.
Rundeer Ebike is a great ebike with full shock suspension, which is nice for off-road riding." -- BIKEFOLDED
"Rundeer Ebike is a special type of fat tire electric bike that can fold down for convenient transportation, which means you can take the ride on the go with you. "