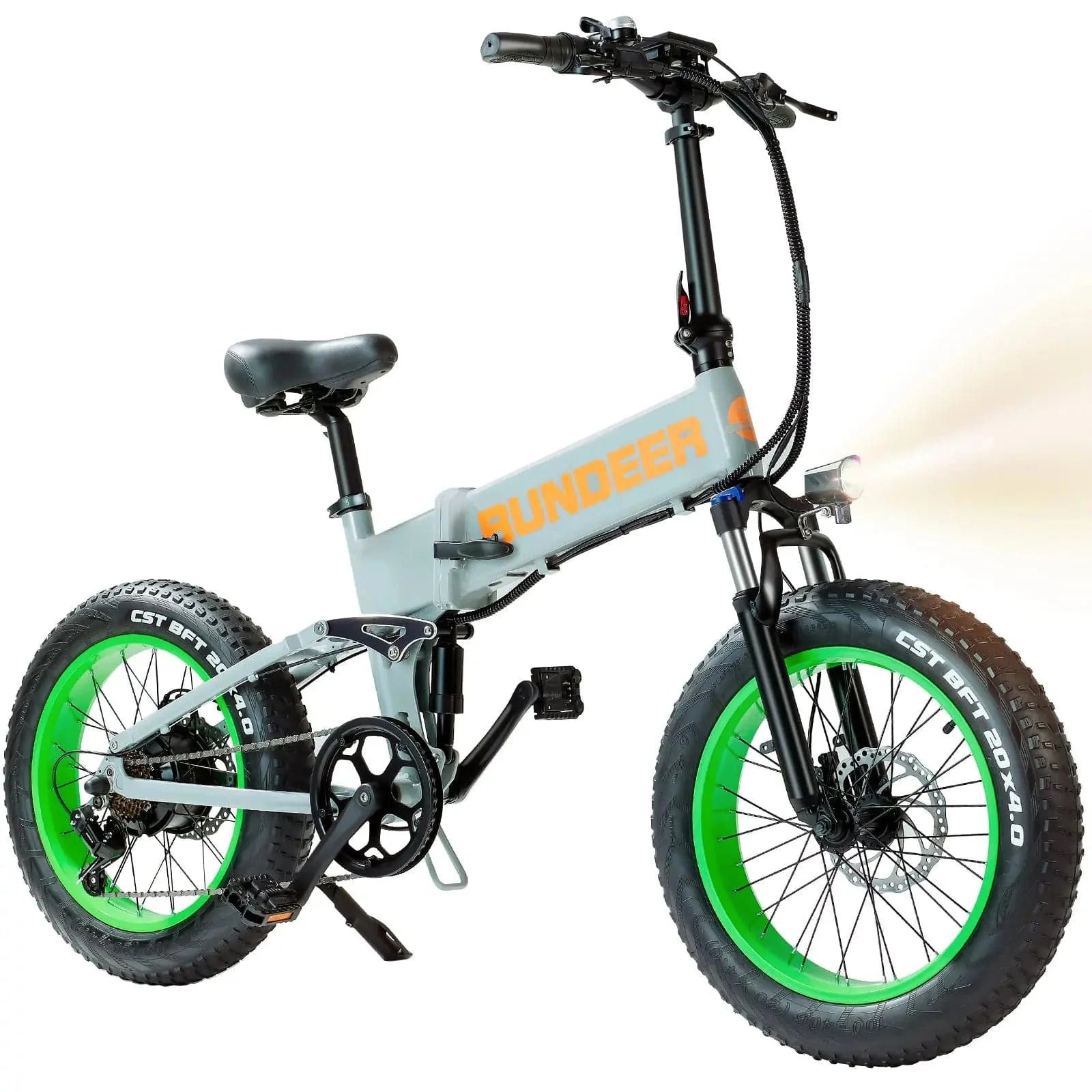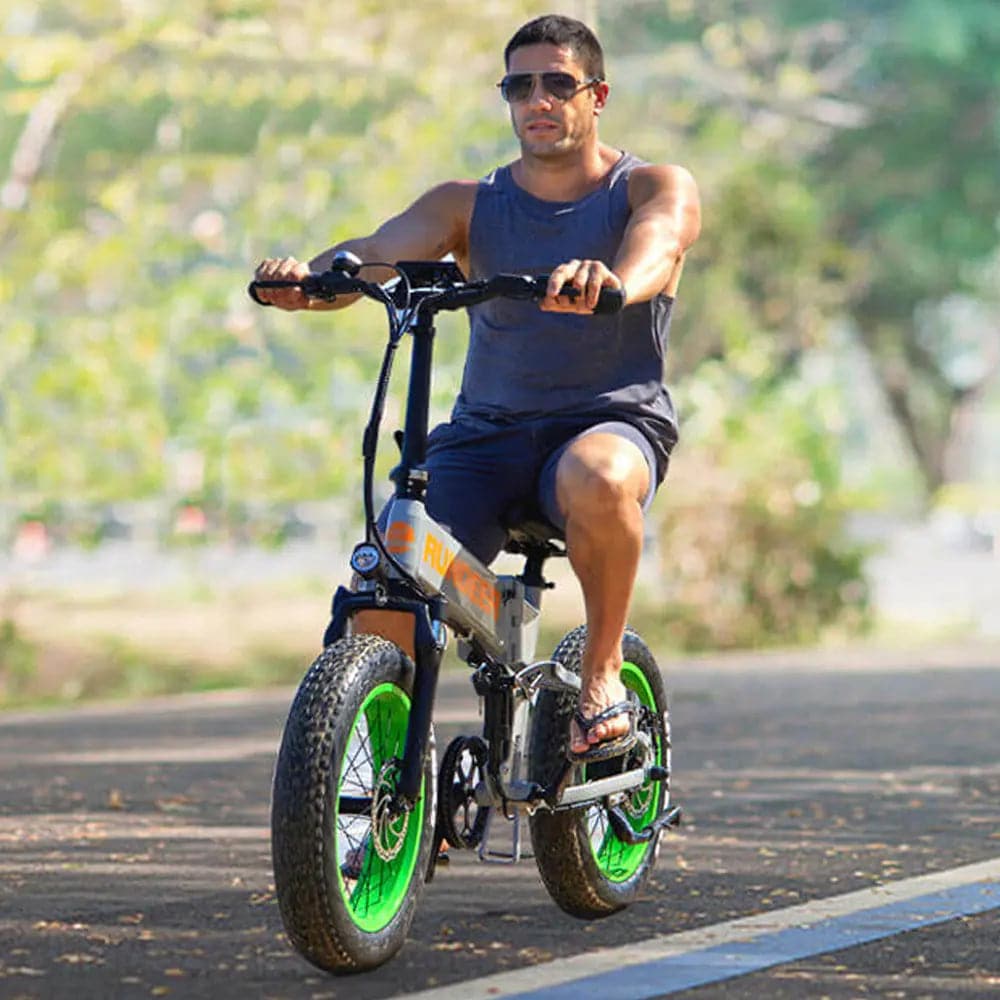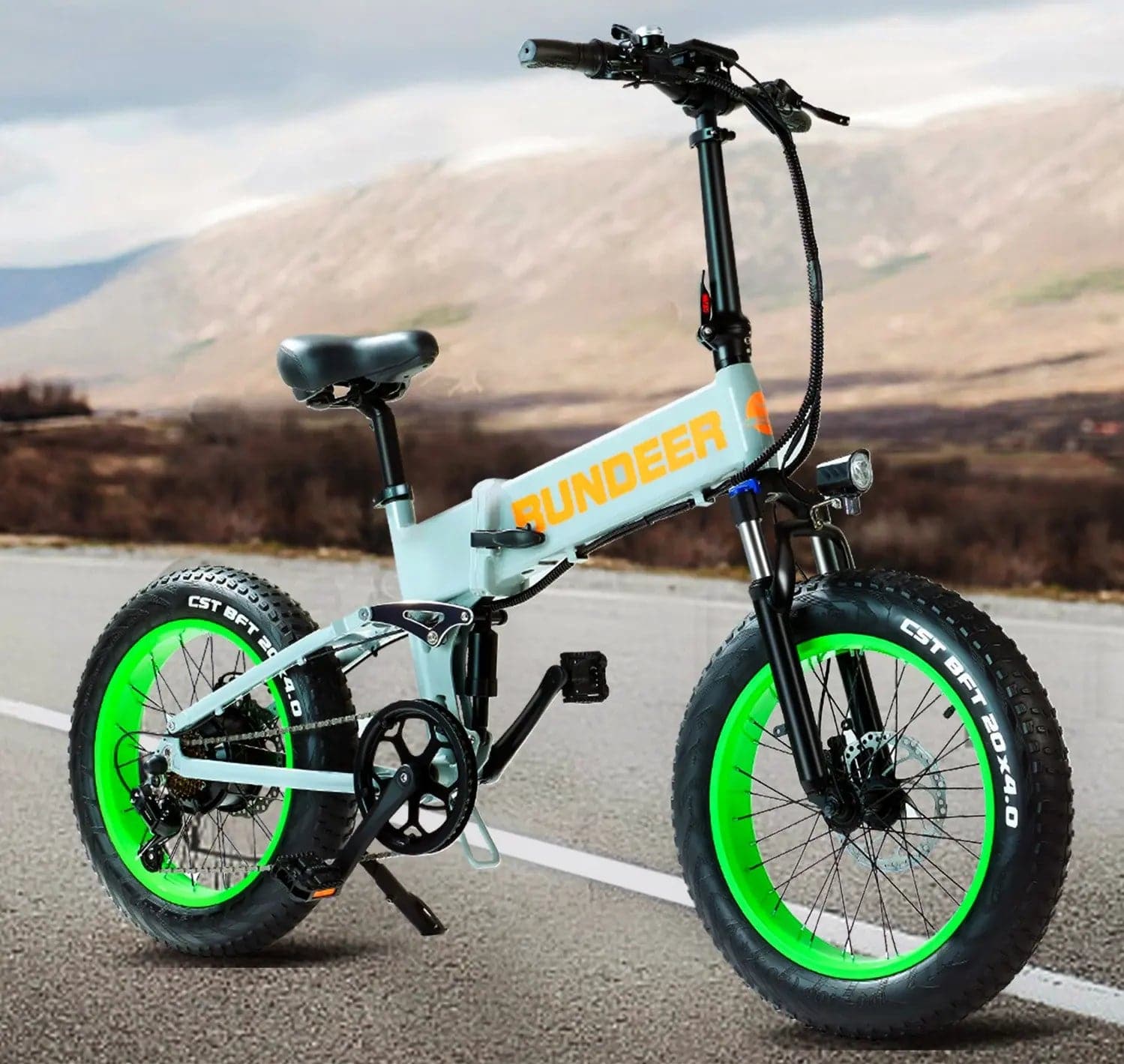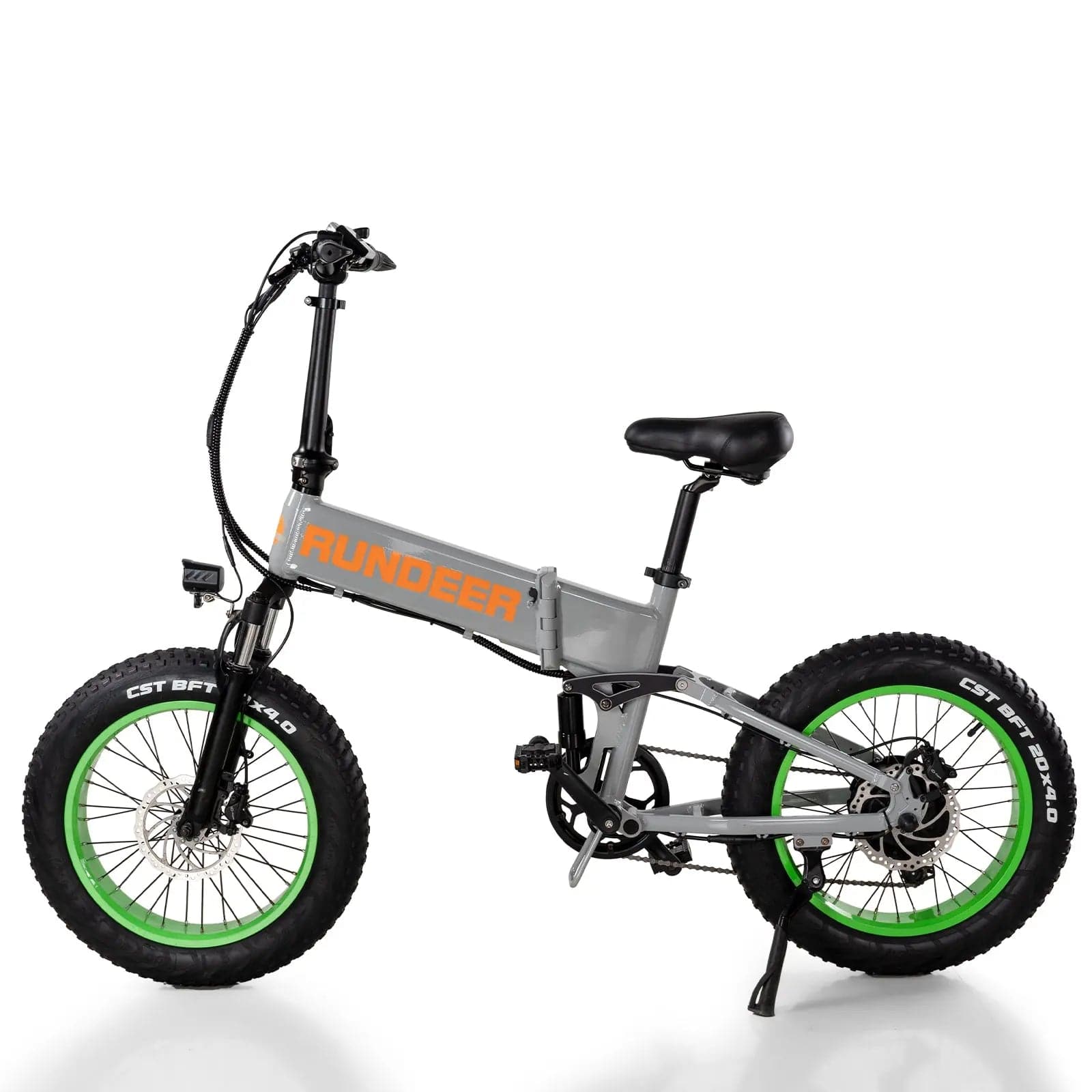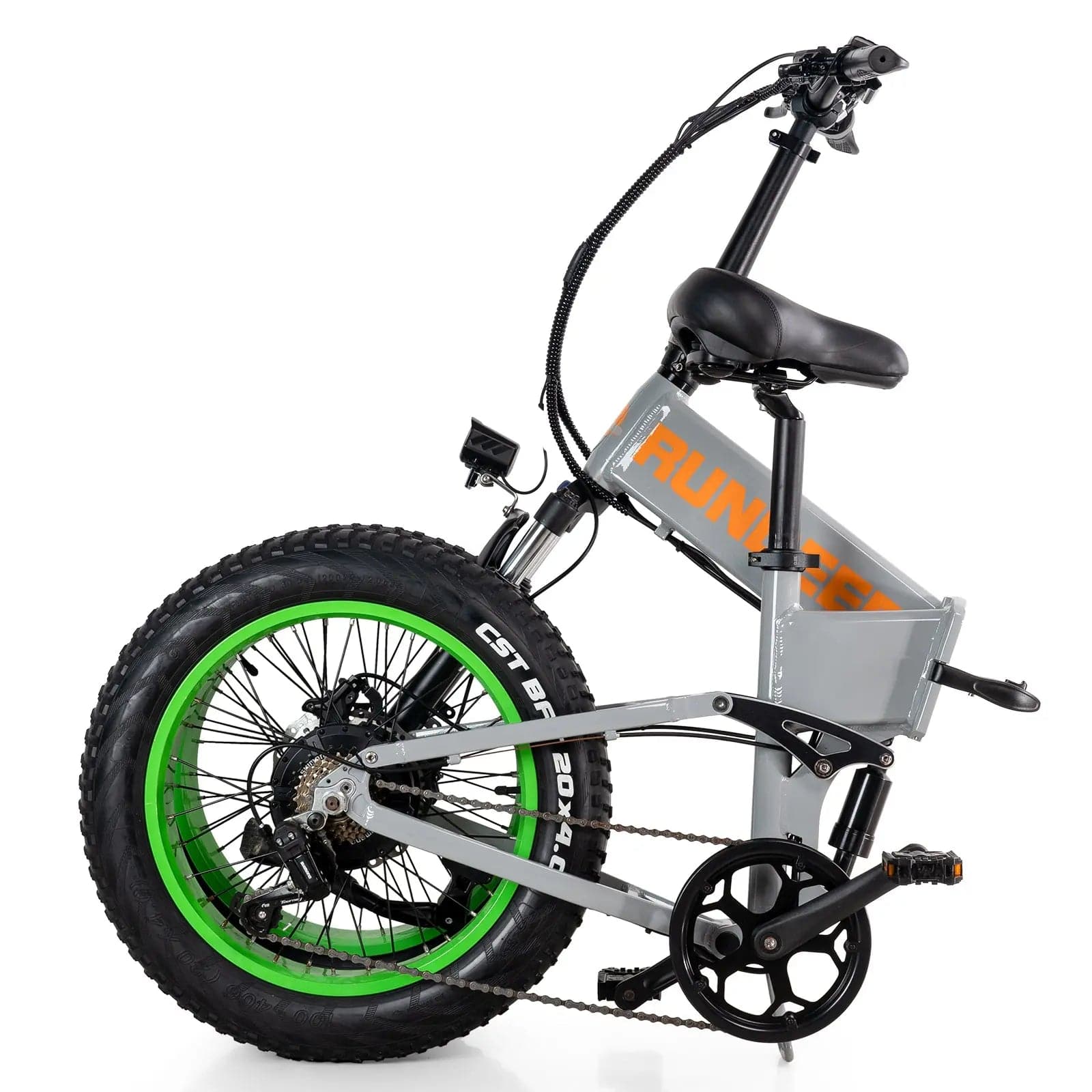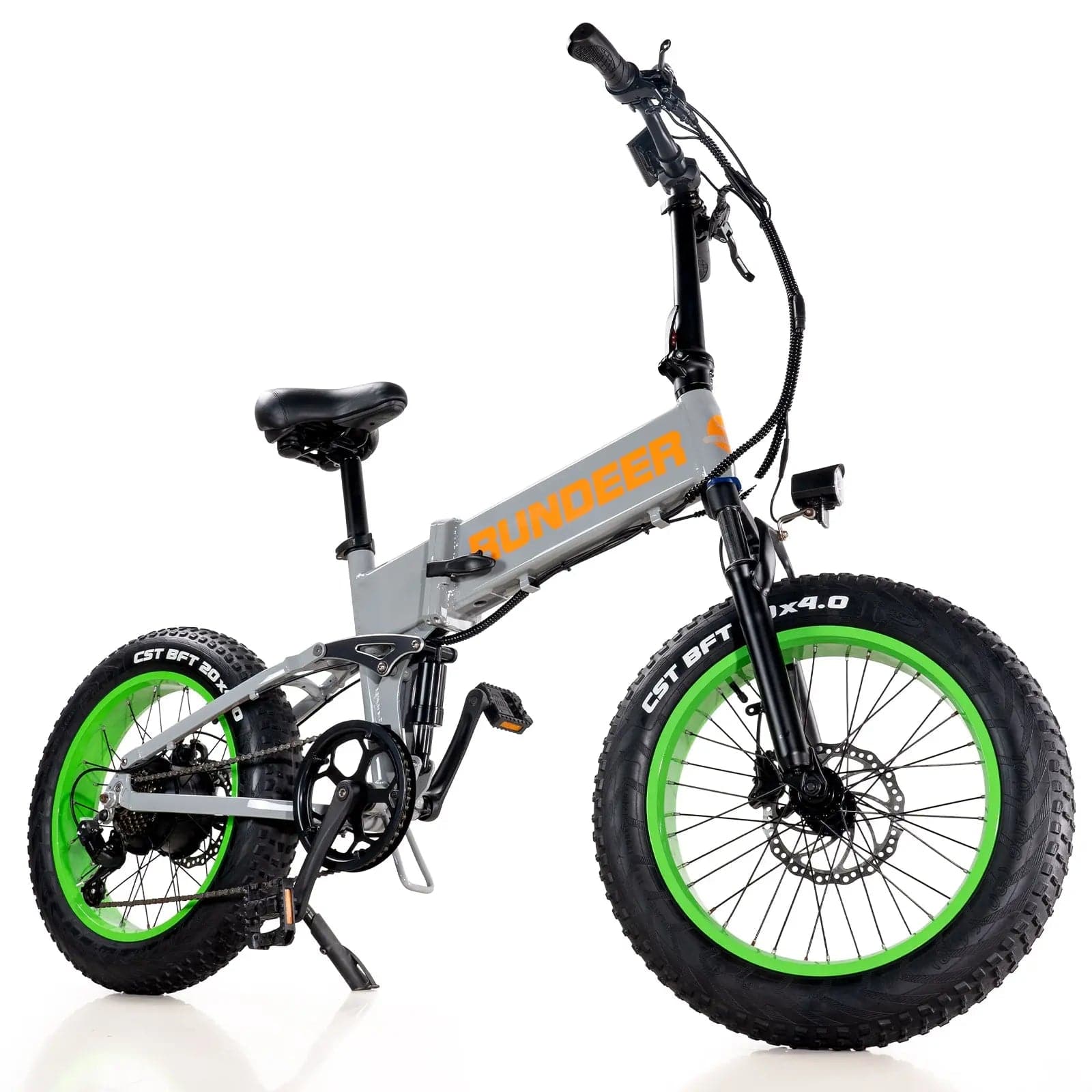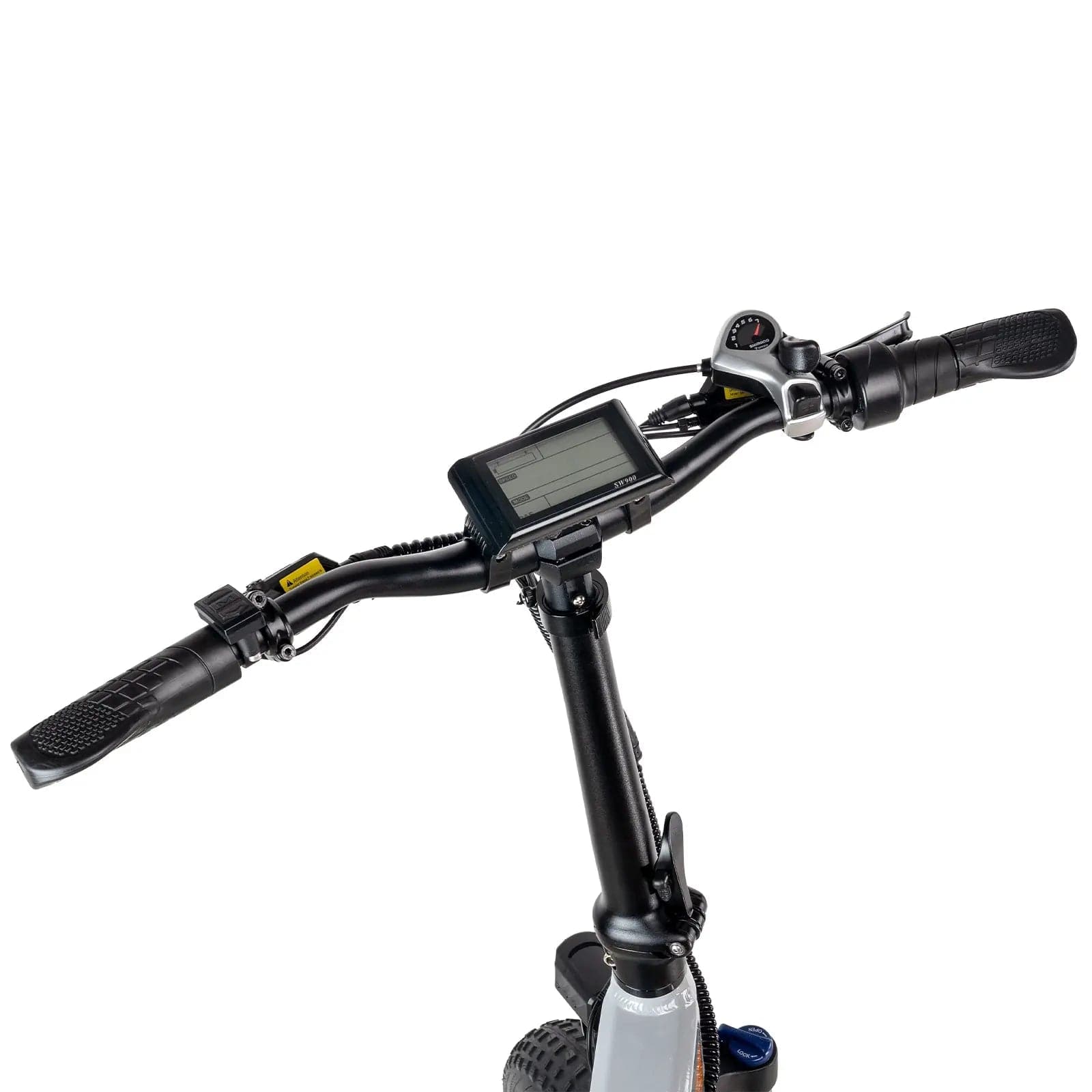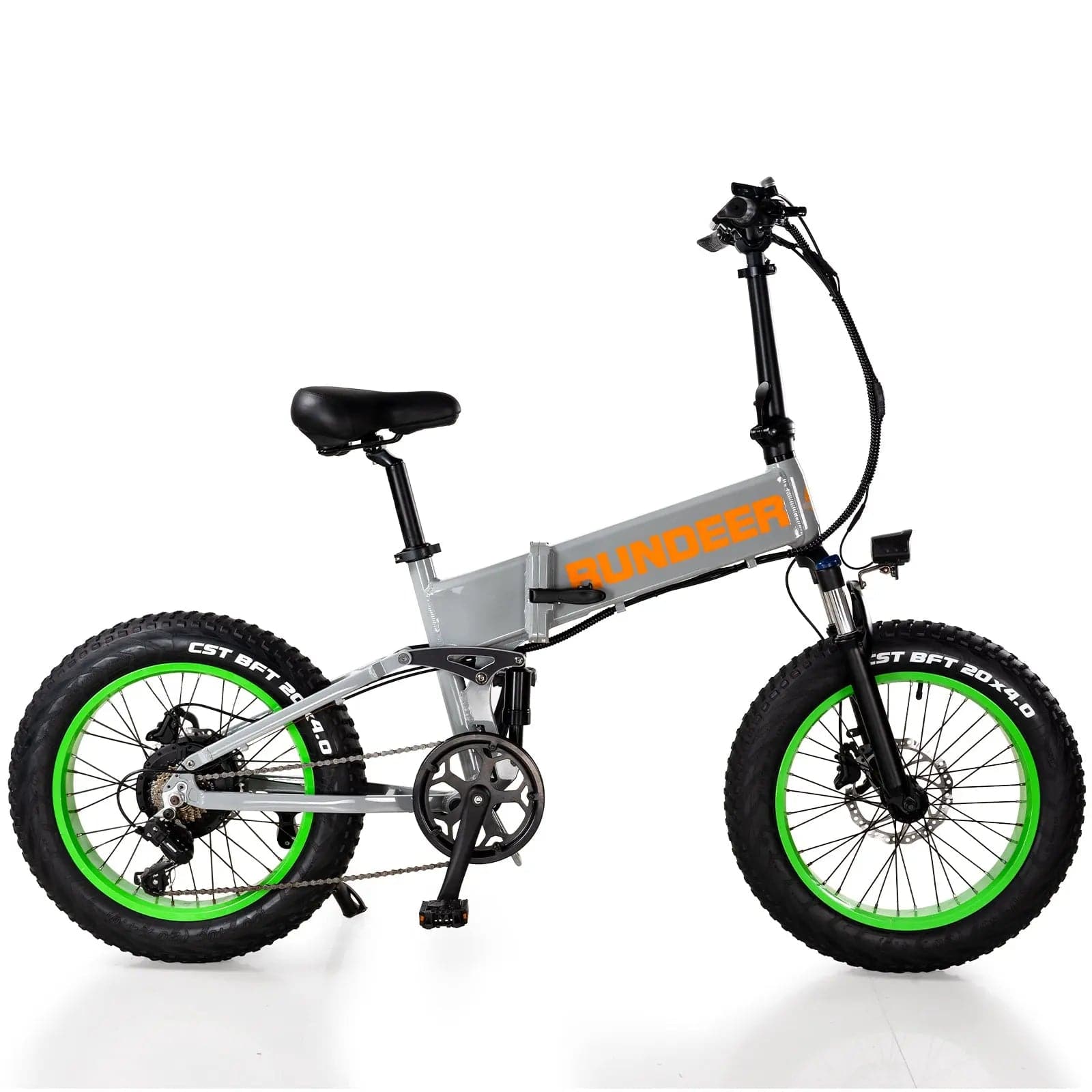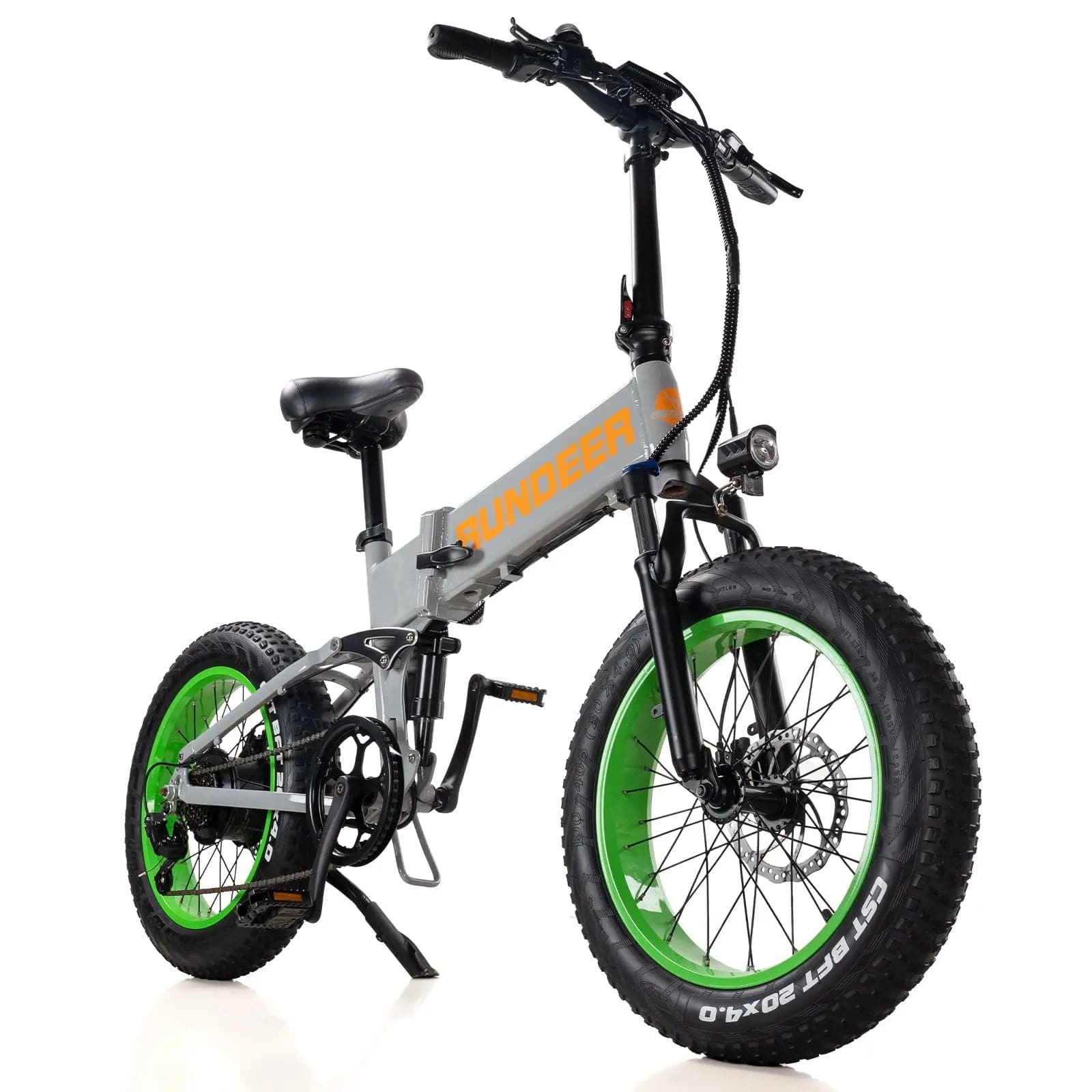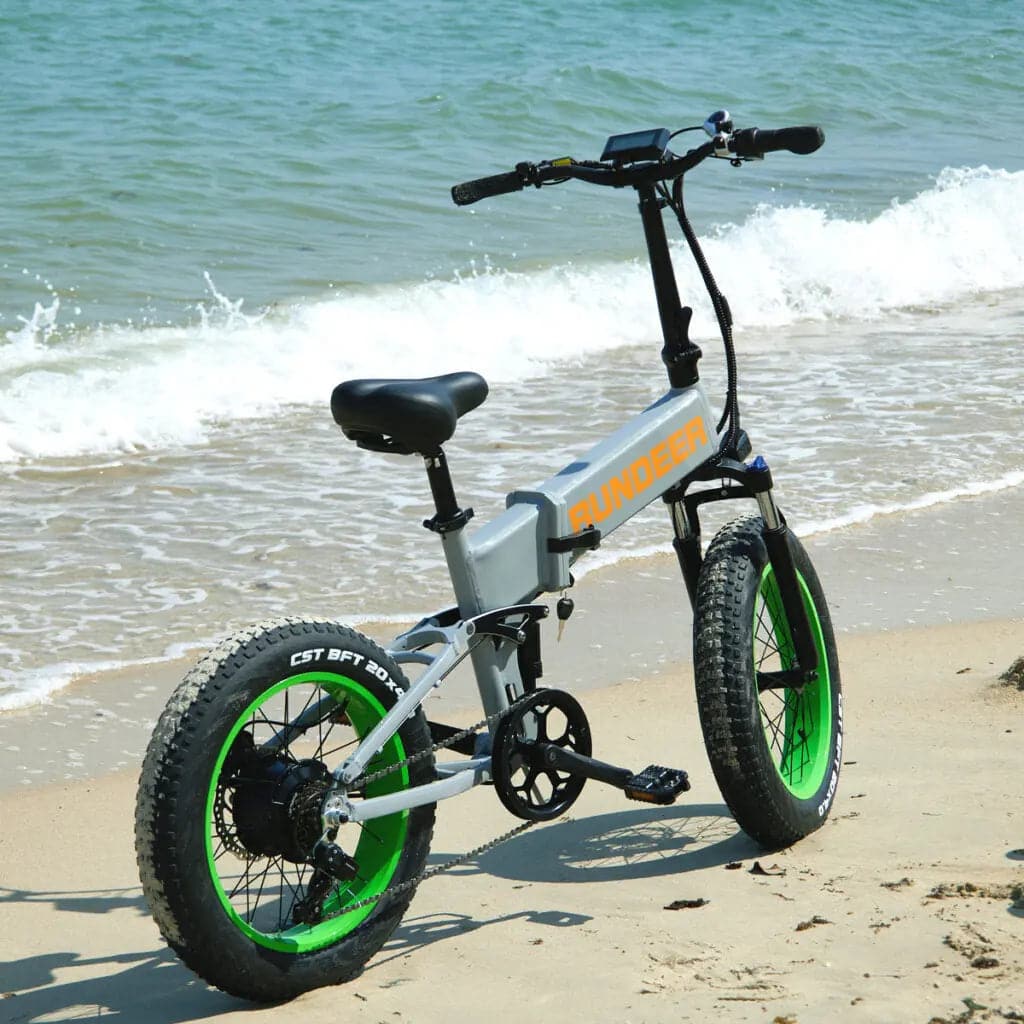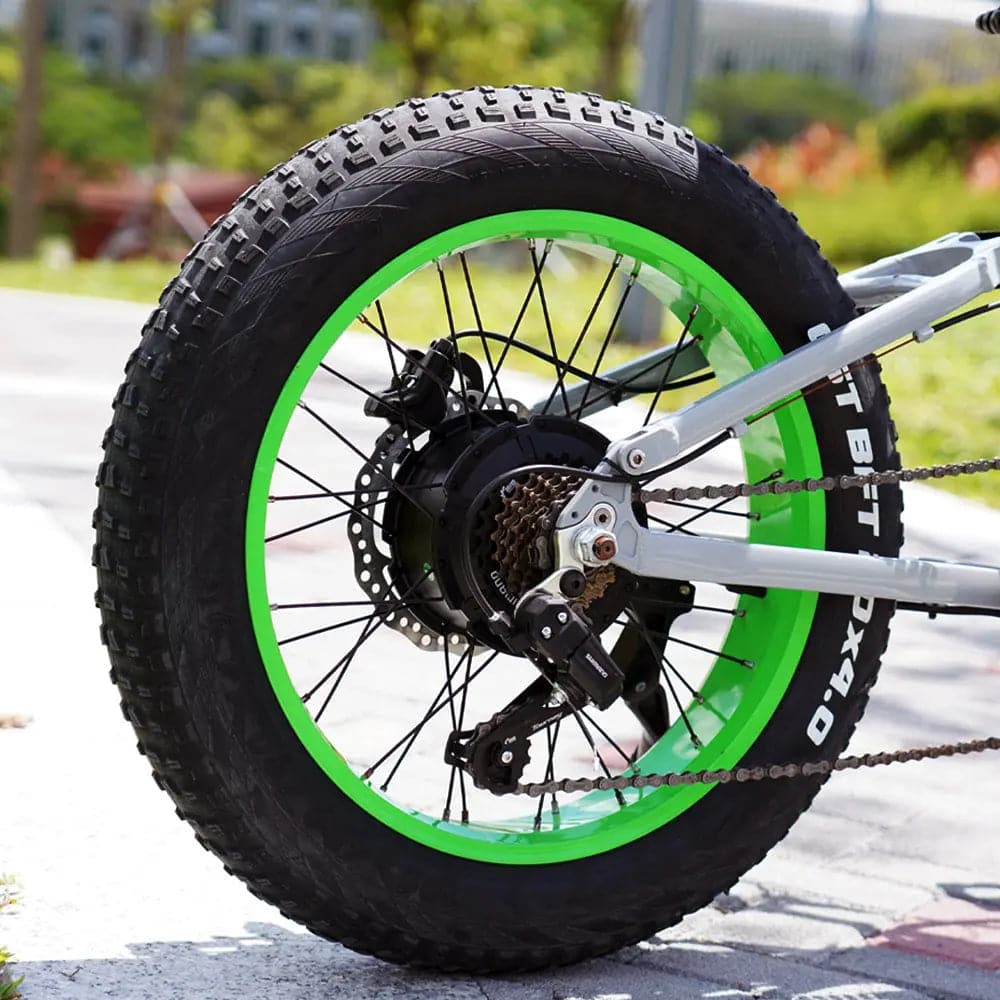 RUNDEER Hummer Folding Off Road EBike
$150 off for you. Don't miss.
Limited Stock.
Coupon code : Hummer $150 OFF
The product has obtained a federally recognized safety certification report, the certification number:220427017SZN-001. Learn More

Free Shipping for Order over $100
30 Days Return Guarantee
1 Year Warranty
EBike 20 inches
Front Frame Material Aluminum alloy
Suspension System Front/Rear Hydraulic Suspension System
Speed Limit 32 Miles/H
Brake System Front / Rear Hydraulic Brake System
Rear Triangle Material Aluminum Alloy Forging
Tire 20"*4" Puncture-Resistant Fat Tires
Waterproof Level IP65
Motor 750 - 1200W Brushiess Gear Motor
Driving Mode Pedal Assist / Power Assist / Pure Electric
Certificatioon Standards UL
Max Payload Capacity 350Lbs
Battery Output Samsung 720 Wh
Riding Range30-50 miles
Speed System Shimano - 7 Speeds
Weight w/ Battery 82 Lbs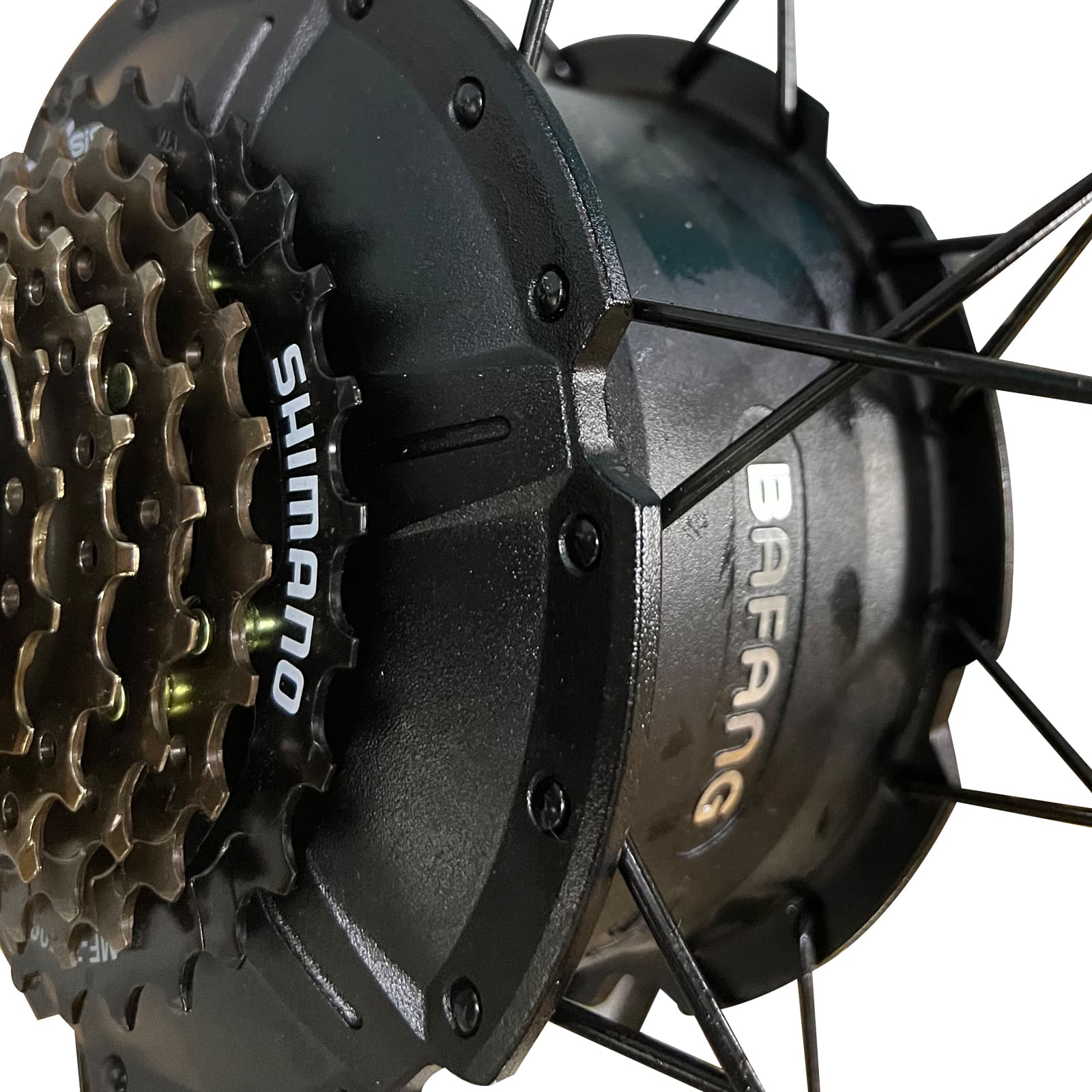 750W Hub Brushless Motor
750W high performance motor (peak 1200W) and a 80Nm torque for a smooth, exciting and effortless riding experience even at 20 degrees uphill. Whether you are cruising on flat terrain or venturing up hills and bumpy ground, the high-powered motor is made to take you wherever you need to go.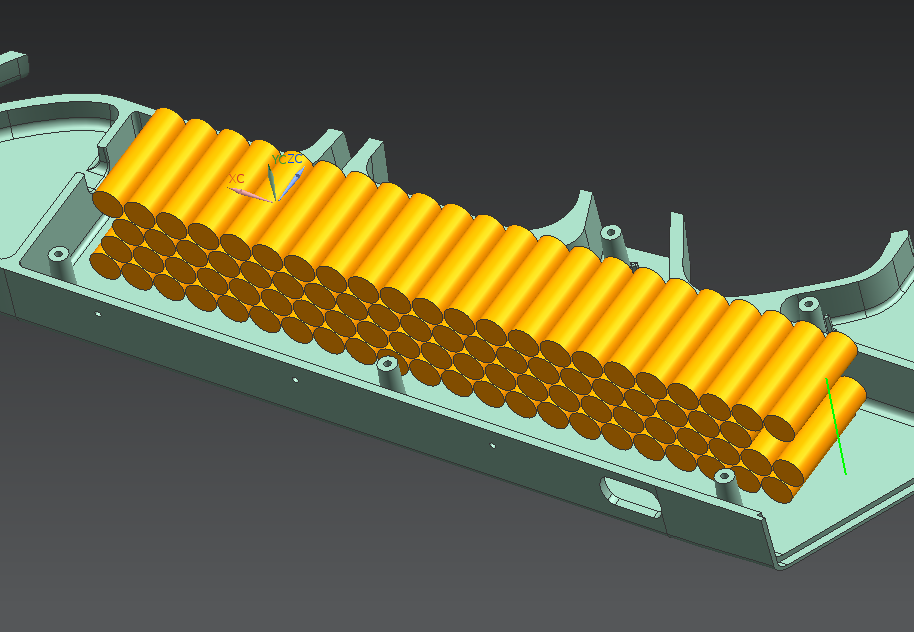 48V 15AH Lithium-ion Battery Made by LG/Samsung
21700 Tesla Grade Battery Cells
Equipped with Tesla Grade 48V 15Ah removable battery certified by LG/Samsung, the Hummer Electric Bike features a 50% longerrange compared to similar bikes in the market. Up to 60 miles on a single charge.It have enough capacity to make round whatever round trip you've faced with.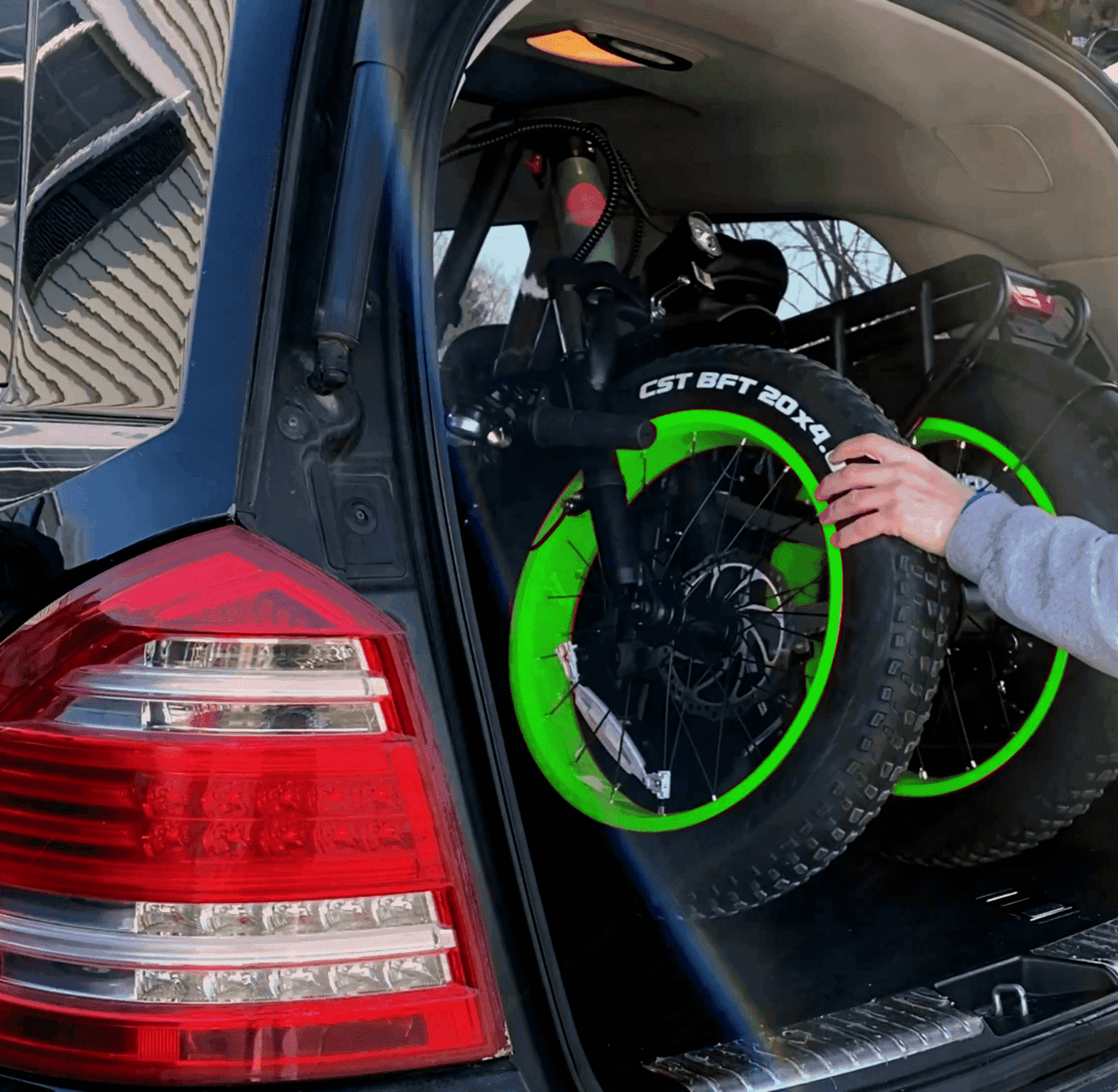 Portable and Folding
The foldable frame design enables you to keep your electric bike to a compact size, you can place it under your office desk for saving space or load it onto your car for an outdoor adventure. With thoughtful folding features, Hummer E-bike improve mobility.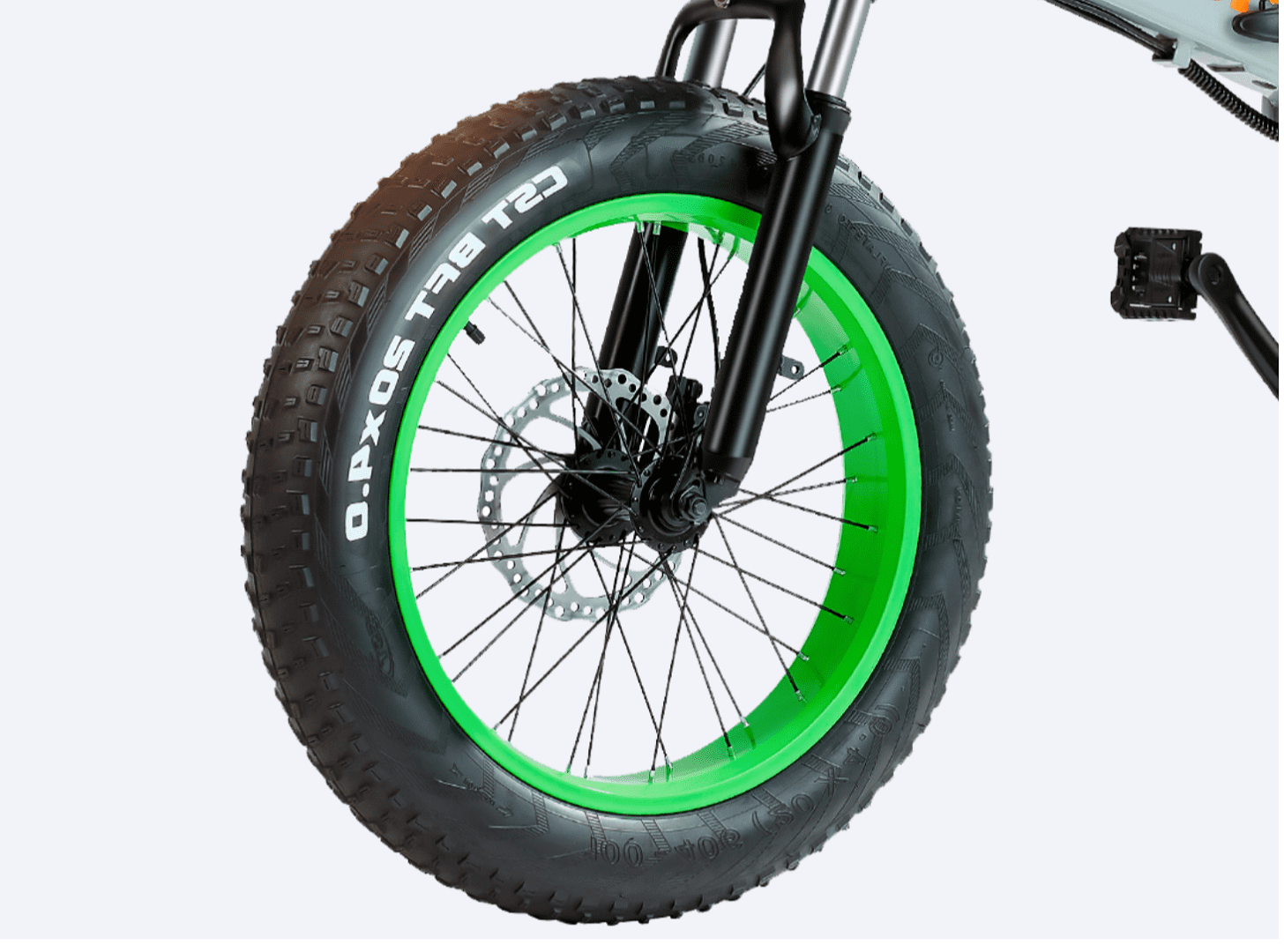 20" × 4" Resistant Fat Tires
Hummer Ebike features 4-inches wide fat tires. The large surface area of contact with the ground offers superior traction, stability, and a smoother ride compared to conventional bikes.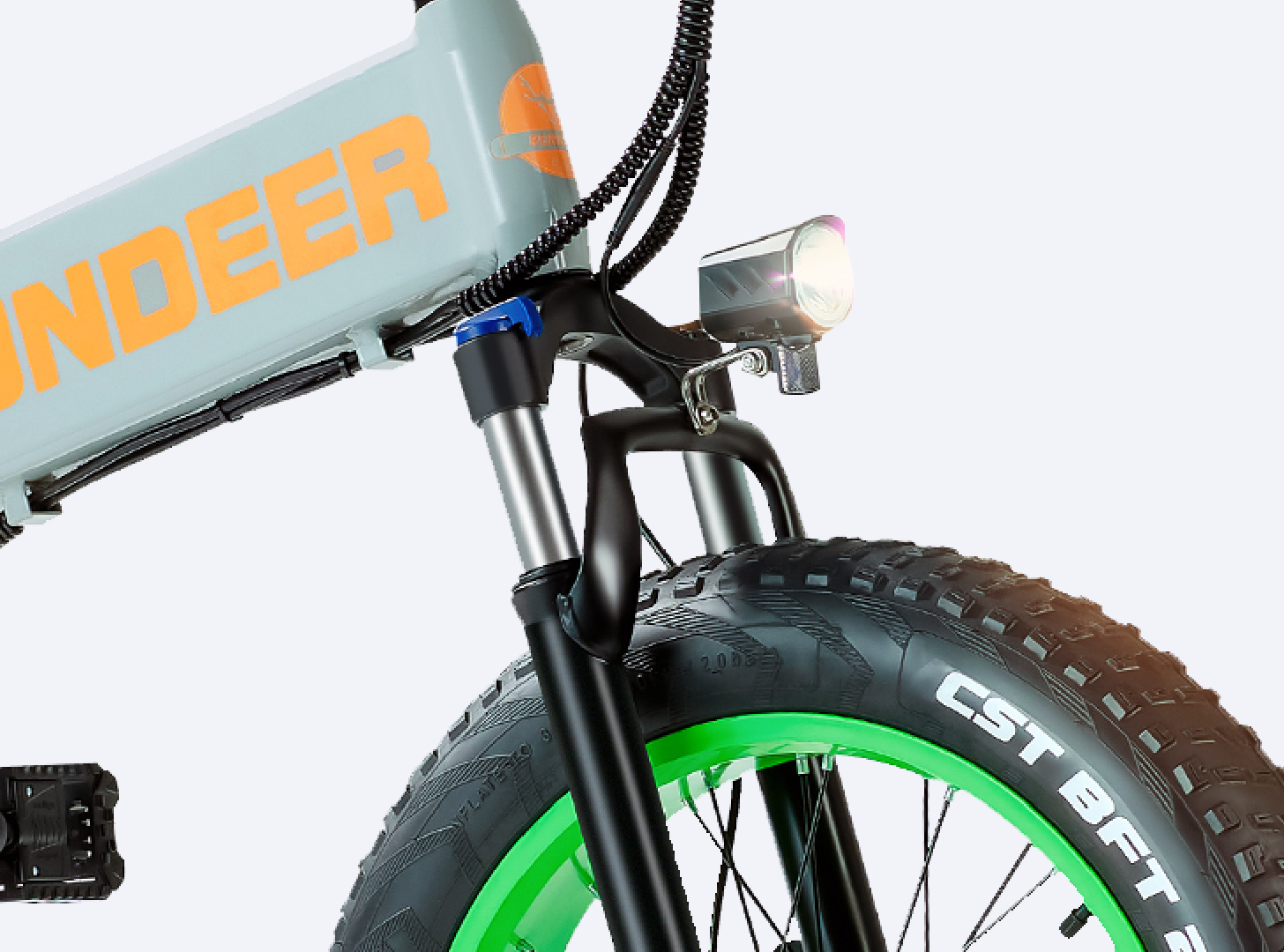 Hydraulic Suspension
The hydraulic suspension system uses high-quality alloy materials, which can produce high-quality shock absorbers and front forks while riding. It adapts to rough terrain and provides a smoother off-road ride.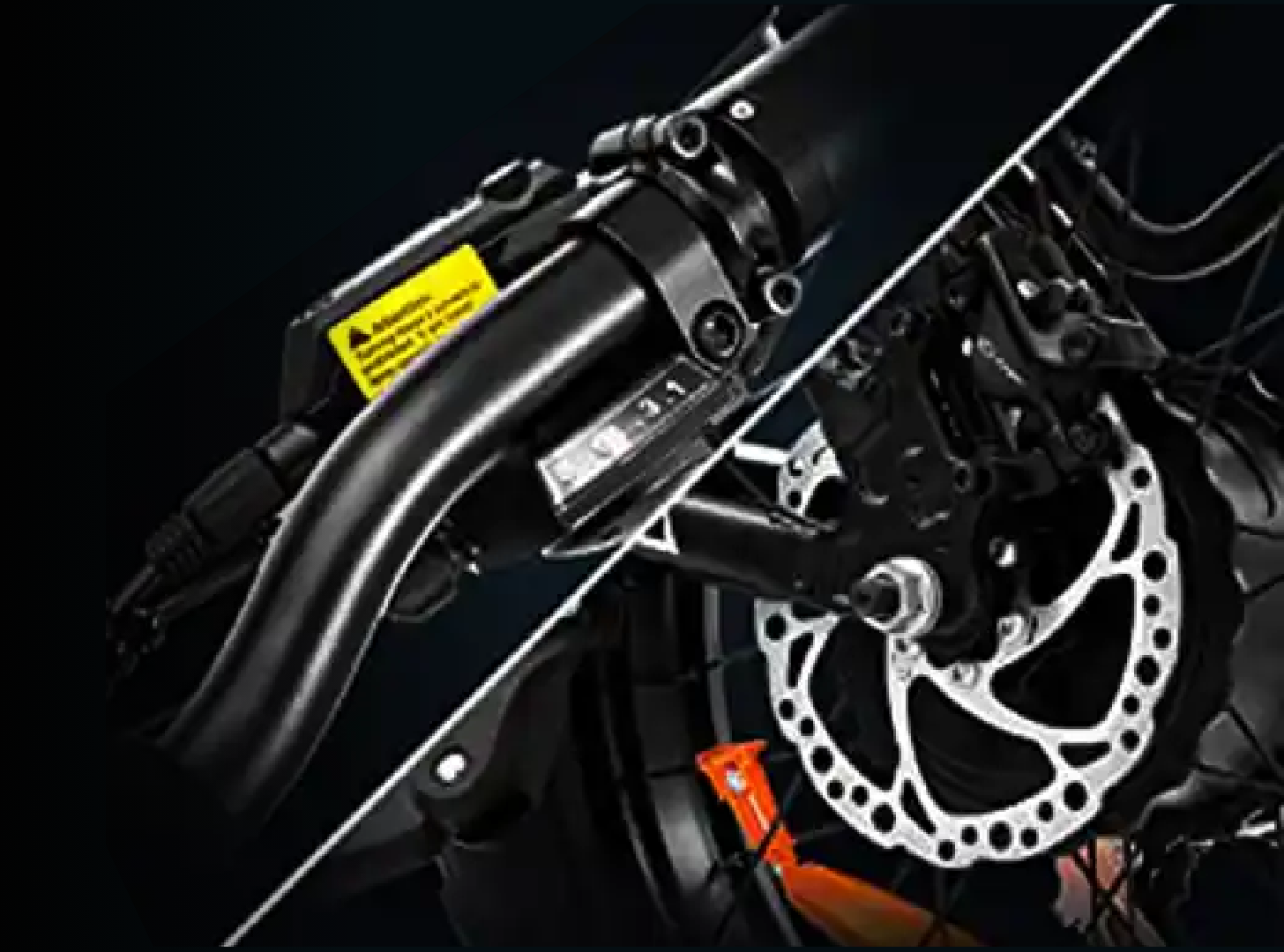 Hydraulic Brake System
Dual Hydraulic braking, sensitive braking, no damage to the disc, manual adjustment button, better braking effect Semi-Metal. High Performance Braking System ensures the safety of emergency braking during cycling.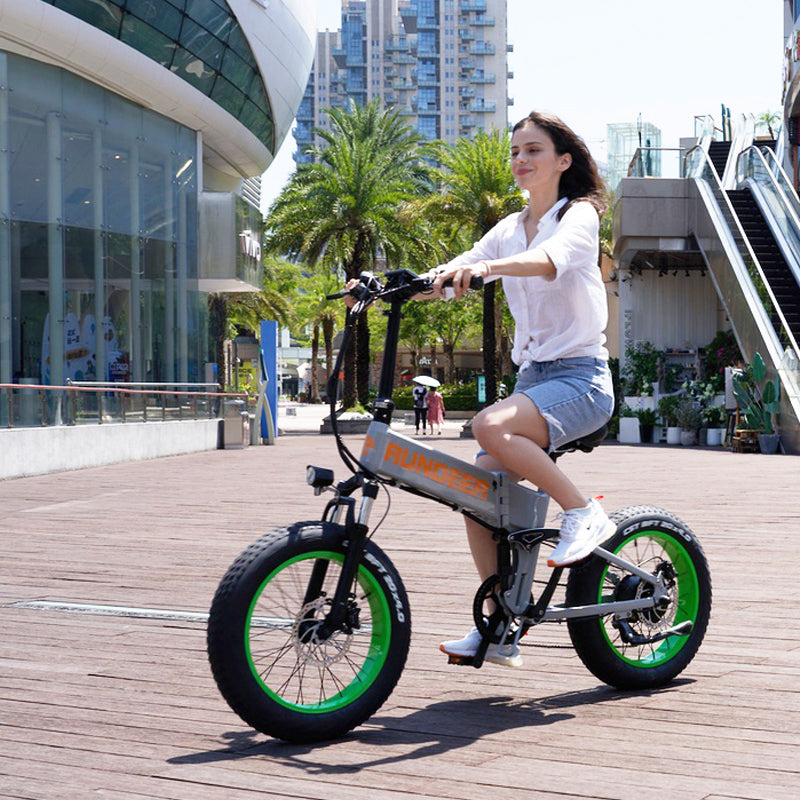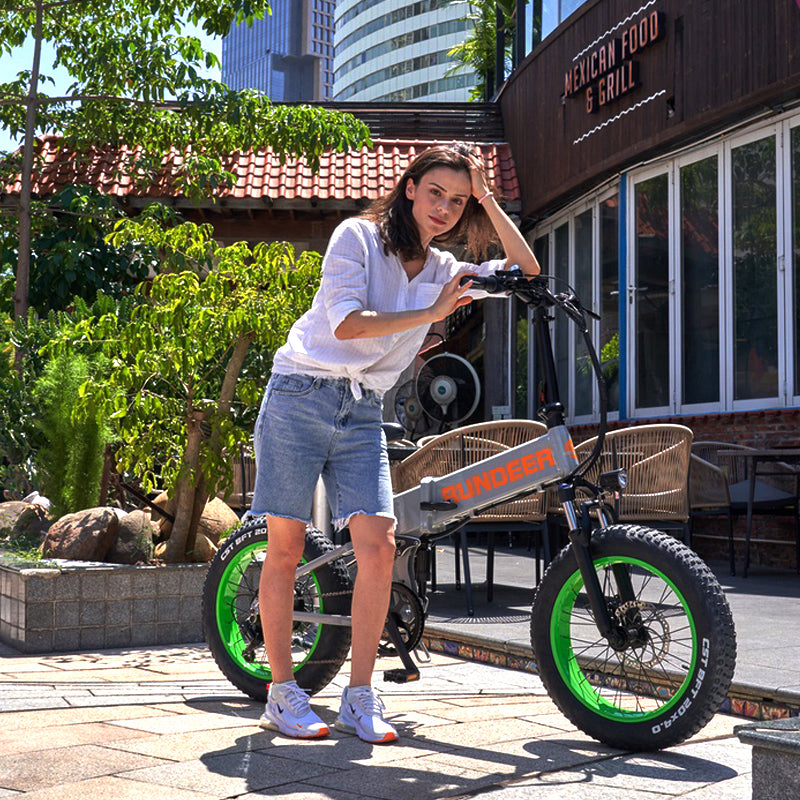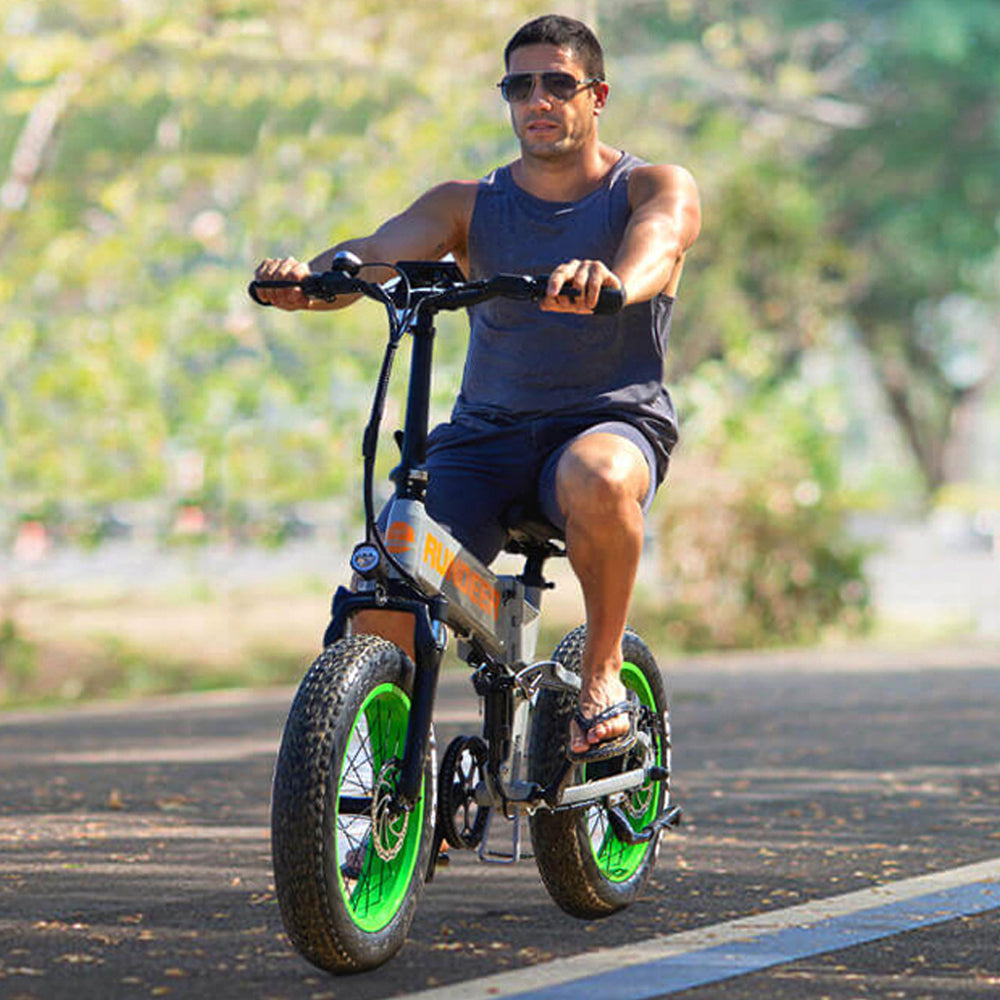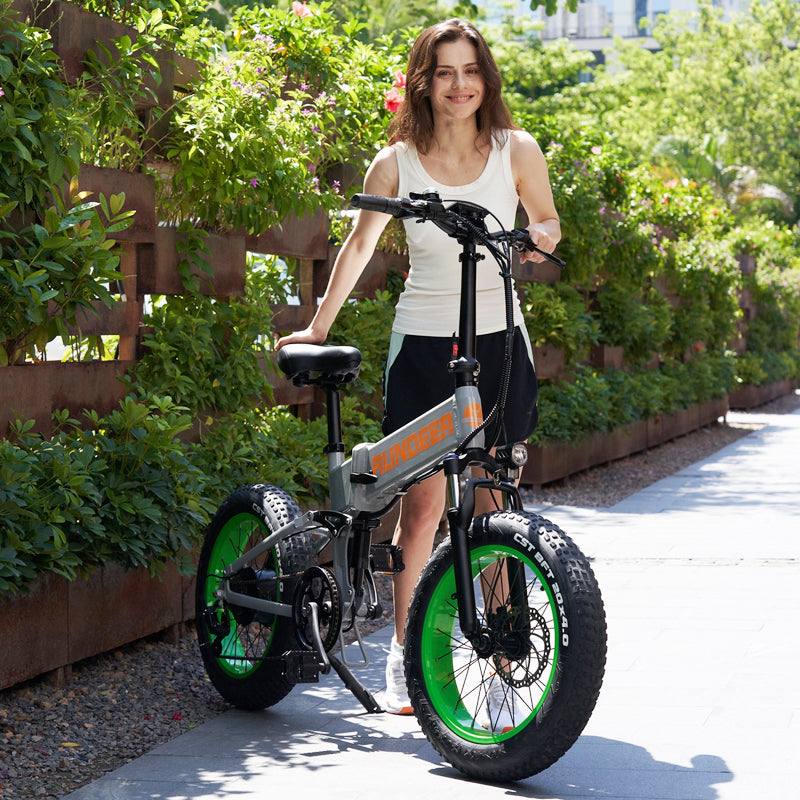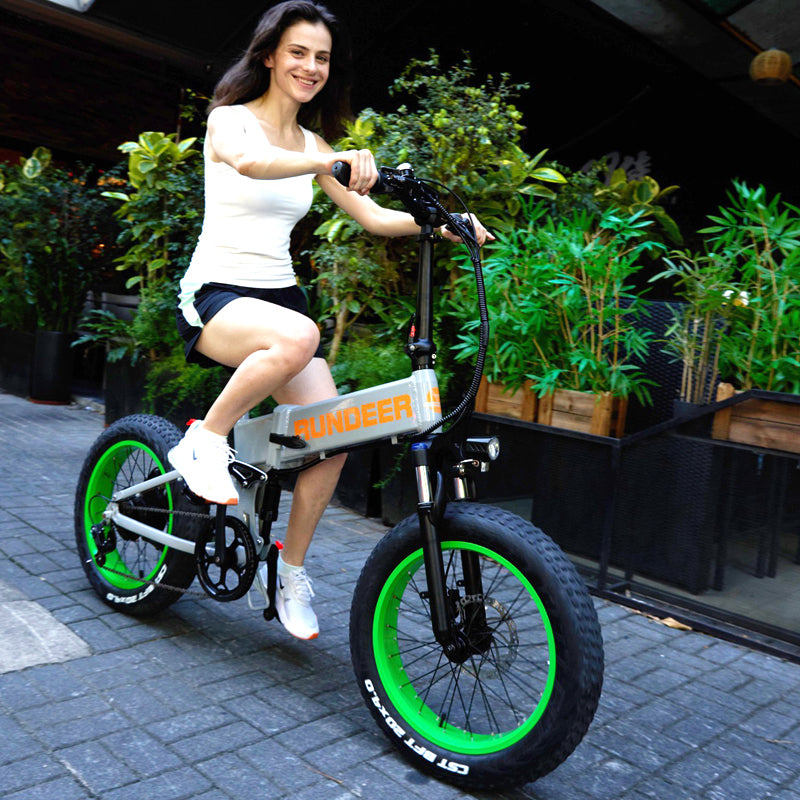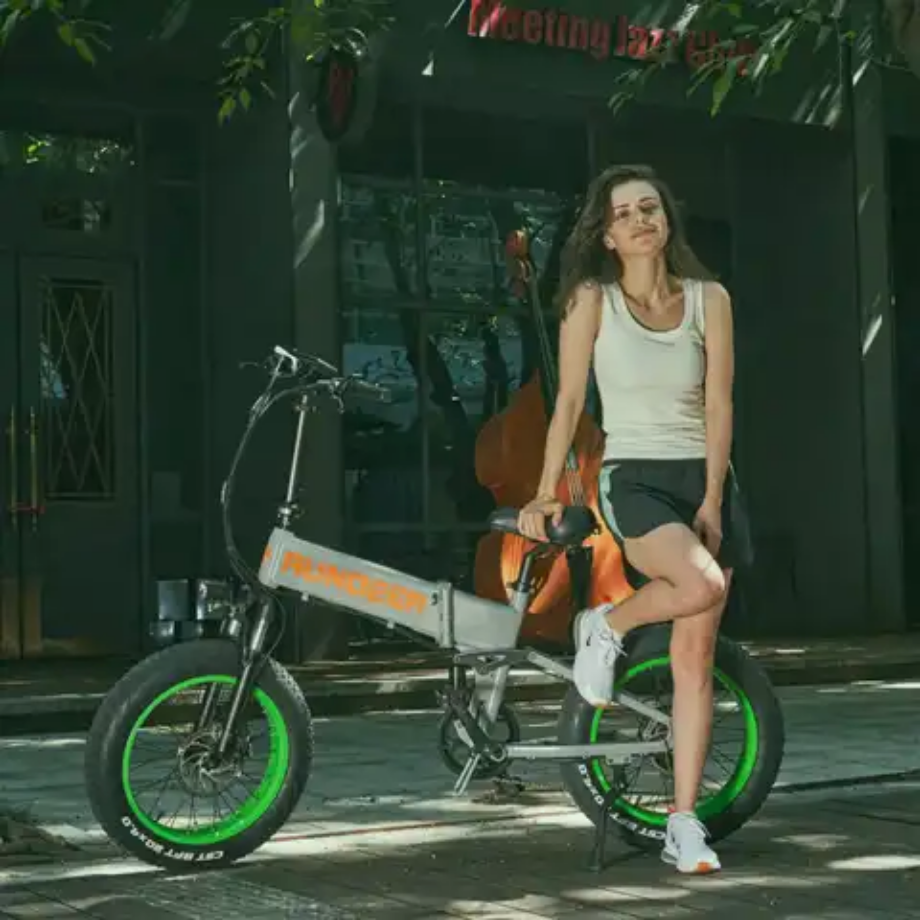 love this bike - so easy to use, very peppy!
This E-bike does exactly what I wanted - fold and fit into my car, lightweight enough for me to be able to pick up and put in car, plus fun to drive.
Lets face it, if the bike is too heavy, and you can't store it, then it's a hassle. This bike has a handle to assist in picking it up to put into my SUV, and folds down so it could go in my back seat if needed.
For battery life, I have driven this bike several times in the last few weeks, and barely used 5% of the battery in an hour. I do typically use the pedal assist levels so this practice saves battery. The power in "level" P3, 4 or 5 zips you up hills without any trouble. Note you can go all electric and not pedal just fine with the same speed - you'd just use a tad more battery.
Love this bike - just bought a second for husband.
Best E-bike money can buy.
I recently purchased the Hummer E-Bike for my 13 year old son, and he's in love. I might be more in love then him, shhh. First impressions, the bike is solidly built. You could probably throw it off a 5 story building, and still jump on it and ride off. Second thing noticeable is the nice paint job, its not your typical "Walmart" bike paint. This paint is some durable stuff. The third thing is the nice and bright LCD screen. I've had no trouble reading it on a full sunny day. There's nothing to complain about on this bike, specially only being sub $1,000. This bike will last for years. I have solar at my house, that's a plus, because the bike runs for free. I also have to mention the awesome world class customer service Rundeer has. The first week of owing the bike, my son left the bike in the driveway, which incidentally caused his bike to be run over by someone, leaving the rear tire to wobble. I reached out to Rundeer asking how much a rear tire replacement would cost, expecting to pay full price, since it was our fault not Rundeer's. Within a couple hours, they emailed me back asking for a photo, which I thought was just to price and match the tire, so I sent it. The next morning I received an email stating a new tire was on the way, free of charge courtesy of them. Not expected, since it wasn't their fault. Today I received the tire, threw it on (it was about as easy changing as a regular non-electric bike tire). My sons back up and riding, happy as heck!
Don't hesitate to purchase the Hummer E-bikes. The bikes are solid, reliable, and customer support is top notch. I love how I can order parts down the road if I ever needed them, and there's a team ready to help.
I'm now going to order myself one. I going to get the Hummer ebike, problem is the secrets out. A few YouTuber's made video's, and they've sold out, and shipping looks like July.
Most of the E-bike community new and old, can't believe these bikes are as cheap as they are for the quality, reliability, and features you get for the price. You won't get an E-bike this any where at this price point.
Sure you can get cheap ones, have fun with that. I've seen them. They don't even come close in comparison to a Rundeer E-bike. I sound like a sales person, but it's because you rarely find a solid company, with a solid product and price that anyone can afford these days. I highly recommend to anyone. You won't regret it. A plus, they are a company headquartered in Arizona!
Peace, love, and happy riding!
Great value ... Love them
My wife and I bought a pair of the Hummer ebike 2 months ago directly from Rundeer. We absolutely love them. We have used them extensively to easily get around the beaches and streets of 30A Florida. I see these listed and ship from LA and are currently 1/2 price of what I paid for them. ??? Hmmmmmm.
Pros: 30 mphs is fast enough for me. lol. Long battery life. I am 220 lbs and 6'1". We use PAS 2 and can go literally for a couple of days on a single charge. Sporty. Durable. Added a back rack for strapping down bags / items etc. Both bikes easily fit in the back of my Jeep JT when they are folded. Quick seat and handle bar adjustment lets others ride with comfort too.
Cons: Folding can be more difficult than it looks. takes practice and is much easier with 2 people (wife and I) working together. Someone claiming a 15 second folding time is a bit of a stretch to me. When folded, it is somewhat awkward to pickup.
Overall 9.5/10 and I dont think there is a better overall lightweight bike out there for the price I paid. Great for bringing camping and on vacation no doubt. I would 100% recommend them to others and would purchase them again !
Perfect for me
I ride for about 30 minutes twice a day, it's just right for me
Easy to manage
My bike came with the pedal assembly mid aligned. Notified the company and they were prompt in response. Good communication. My new bike is great. Would highly recommend this bike and company
Are Fat Tire Bikes Good For Long Distances?
A fat tire e-bike could handle varieties of riding conditions, especially off-road riding. As it is also foldable, you can easily load it into your car truck. 
Firstly, if you are looking for a folding e-bike, you would care about its folding dimension. It depends on where you like to put it. In this case, you should know if it fit your car trunk or the corner somewhere in your home.
The other thing you should consider is that is it simple and easy enough to fold? You won't need a bike that is complicated to fold and handle but for convenience and efficiency.
Rundeer Hummer is a class 1 e-bike. A class 1 e-bike is limited to a top speed of 35 miles per hour and has throttles that could work when you're not pedaling.
Sure, the max load capacity of Rundeer Hummer is 350 lbs.