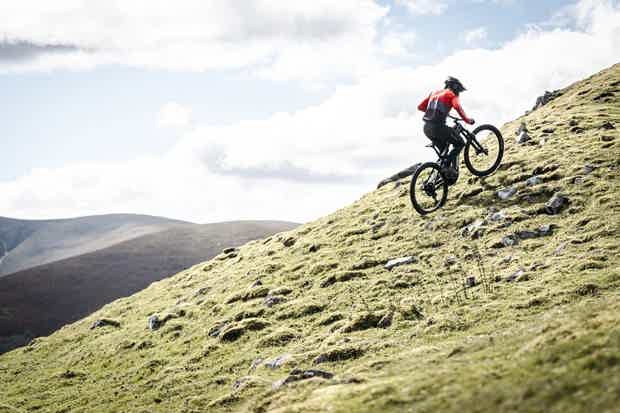 What is an electric bike and how do they work?
Thinking about buying an ebike? We've got the electric bike basics covered.
Whether you're ditching the car by cycling to work or want an easier ride to the top of trails, an electric bike can offer many of the benefits of a non-assisted bike, with motorised power on tap when you need it.Electric bike technology has advanced at a pace in recent years and you can now find pretty much any type of bike with a motor.
In this general guide to electric bikes, we'll explain exactly what an ebike is, how an electric bike works, how to ride an ebike and answer some of the key questions you may have before buying.
What is an electric bike?
An electric bike, or ebike, is a bicycle equipped with an electric bike motor to assist you when you're pedalling. The motor will get its power from a rechargeable battery mounted on the bike.
To classify as an ebike, the motor has to help you rather than propel you on its own. As a result, you need to pedal to get that assistance. How much power the motor delivers is regulated based on how hard you are pedalling and the level of support you have selected.
Electric bike systems offer a number of modes to choose from, allowing you to balance the amount of power supplied through the pedals with range and battery life.
How does an electric bike work?
An electric bike will typically have a motor housed either centrally on the bike (often referred to as a mid-drive motor, powered through the cranks) or on the front or rear hub.
Whereas a hub-based motor will push the wheel around directly, an axle-mounted motor will work through the ebike's chain and gears.
When you pedal, a torque sensor will measure how much effort you are putting in and match that to the motor's power output.
The idea is that the motor won't completely take over; instead, you should get consistent power delivery that won't send the bike lurching forward.
Therefore, one of many benefits of riding an electric bike is you still have to press on the pedals and get exercise. Riding an electric bike for fitness is eminently possible.
Power comes from the battery, which might be mounted on the outside of the frame or hidden within it.
Many batteries can be removed for charging, although others need to be charged on the bike. If that's the case, you need to have somewhere to park the bike near a power socket.
There will be a controller for the motor, usually mounted on the handlebar or integrated within the frame, that lets you decide how much assistance you want, and to keep an eye on the battery level. Some will include a screen with navigation and other functions too.
Bosch, Shimano, Yamaha, Specialized, Mahle, FSA and Fazua all make popular ebike motors. Specifications can vary significantly and the type of motor found on a bike will depend on its price and the type of riding intended.
For example, an electric road bike is more likely to favour a lightweight system with smooth power delivery, whereas a motor on a high-spec electric mountain bike is likely to offer more torque for off-road capability.
What range will an electric bike have?
Batteries on electric bikes can give you a range of anything from 20 to 100 miles or more on a full charge, depending on their capacity (measured in watt-hours and abbreviated to Wh). Batteries are expensive, so an ebike with a longer range will, in general, cost more.
You'll usually get a battery-level indicator, while some control systems will give you an estimated range as you ride or regulate the power output to let you achieve your planned ride distance.
Some ebikes let you plug in a second battery, which might fit in a bottle cage, to up range. You can also lower the assistance level during a ride to help conserve the battery and extend the bike's range.
While many brands will offer an estimated range for a particular model of bike, and it is possible to gauge a bike's theoretical range based on its motor power and battery capacity, ultimately it depends on the level of assistance you're using and the terrain.
Fully recharging the battery from the mains can take anything from around three hours up to nine hours, or more depending on the model, charger and battery capacity.
Conclusion
In short, if you want a helping hand on your ride, you can find an electric bike to suit your needs.